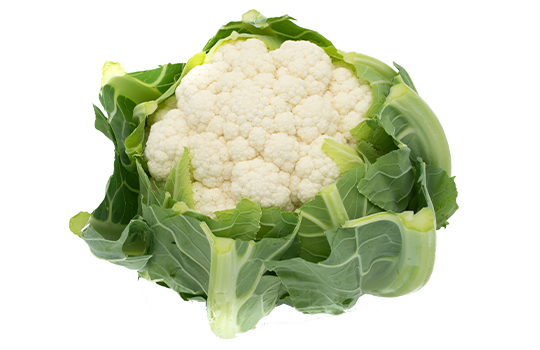 Did you know?
Cauliflower is part of the Cruciferae (Brassicaceae) family. The word cauliflower first appeared in the French language in 1611. However, it only began to be grown in Brittany at the end of the 19th century. Brittany now accounts for 80% of total French production.
Cauliflowers love mild, humid climates so are perfectly adapted to Brittany. It means they can be harvested all year round.
All of the year's cauliflowers are planted over a roughly one-month period between July 15 and August 15.
Depending on the variety, the white heads will appear between 75 and 300 days after planting, that's between two and 10 months. So it's a slow-growing crop that requires a lot of attention.
Entirely harvested by hand using a large knife, cauliflowers are placed on a belt which transports them inside a trailer. Cauliflowers are then immediately placed in wooden crates, ready for delivery. Packing in the field like this is a guarantee of optimal freshness on your plate!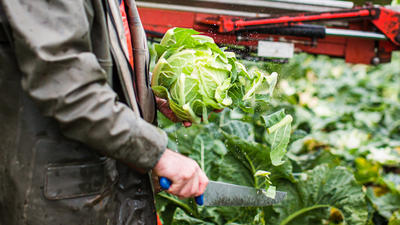 Cooking tips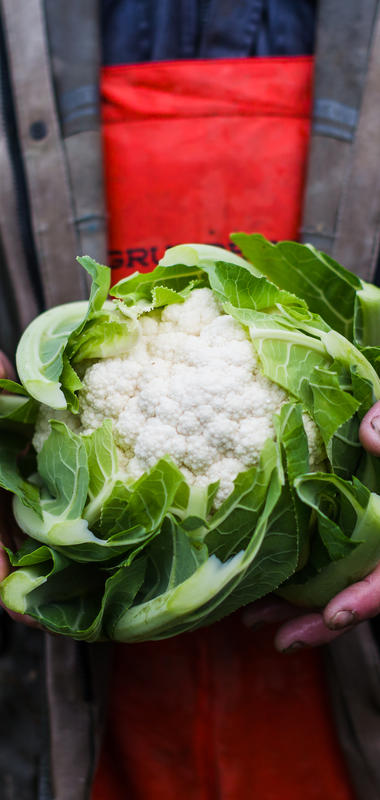 HOW TO CHOOSE CAULIFLOWER
Cauliflower heads should be very white, round and firm.
The appearance of the leaves that surround the head can also be used to judge freshness. They should be very green, shiny and crisp.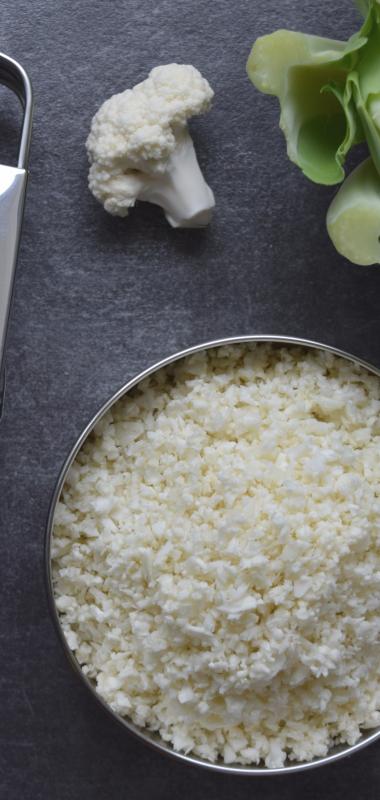 HOW TO PREPARE CAULIFLOWER
Begin by removing the leaves and then wash your cauliflower.
Then everything depends on your recipe!
To prepare your cauliflower as couscous or rice, grate it in a food processor like you would for grated carrots (cut it into florets first) if you are pushed for time. Otherwise, using a manual grater works too.
You can also cut the cauliflower into florets for an aperitif or cooked dishes. You won't necessarily need the core, so save it for a soup
Some people love to eat cauliflower in thick slices, cooked like meat. Save the unsliced cauliflower for salads, soups etc.
You can also cook the entire head.
HOW TO COOK CAULIFLOWER
Cauliflower florets can be eaten raw or cooked. For cooking, allow:
10 to 15 mins
In boiling water
5 to 10 mins
Steam cooking
10 mins
Fried in a wok (blanch first)
You can also roast cauliflower in the oven or pan-fry a slice of it (blanch first to prevent it from becoming bitter).
Cauliflower couscous can be eaten raw in tabbouleh but also cooked in the microwave for a few minutes before being incorporated into a cake preparation or fried in a wok or pan-cooked in a risotto. Cooking is very rapid and low in odour!
Anti-waste tip: the leaves that surround the head can be eaten in soups, stir-fries and salads providing you choose the smaller, more tender ones!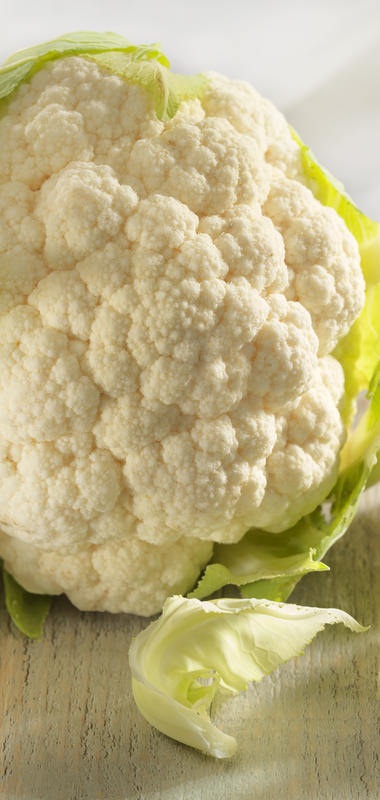 HOW TO STORE CAULIFLOWER
Cauliflower will keep for 2 or 3 days in the salad drawer of your fridge. But it will keep even better if you first wash it, divide it into florets and put the pieces in an airtight container.
Cauliflower can also be frozen (blanch first).
Cooking suggestions
Cauliflower can be used as an aperitif, a starter, a main course and even a dessert! It can star in gratins, soups, pasta, risotto etc.
It pairs really well with spices, herbs, yoghurt-based sauces, bechamel, shellfish and meat, especially poultry and bacon etc.
Cauliflower couscous can be cooked in many ways and can turn even the most reluctant children and adults into cauliflower lovers! Indeed, not only can it replace carbohydrates in tabbouleh and risottos but it can also be used in other dishes such as pizza dough and croquettes. Cauliflower couscous recipes allow you to break away from traditional favourites such as cauliflower cheese and soups.
Chef's tip
To reduce cauliflower's cooking odours, drop a slice of bread into the cooking water. Short cooking times also reduce odours!
Nutrition
Cauliflower has numerous health benefits, both raw and cooked. Cauliflower is high in folic acid (vitamin B9) and vitamin C. It is also a source of vitamin K when eaten raw. Did you know? 100g of raw cauliflower provides the same amount of vitamin C as half an orange or half a kiwi fruit.
| | |
| --- | --- |
| Energy (kj/kcal) | 124/29 |
| Fat (g) | 0.2 |
| of which saturated fat (g) | 0.12 |
| Carbohydrate (g) | 3.5 |
| of which sugar (g) | 2.7 |
| Dietary fibre (g) | 2.2 |
| Protein (g) | 2.3 |
| Salt (g) | 0.02 |
| Vitamin C (mg) | 35.9 |
| Folic acid (B9 in µg) | 111 |
| Vitamin K (µg) | 15.8 |
| | |
| --- | --- |
| Energy (kj/kcal) | 120/29 |
| Fat (g) | 0.3 |
| of which saturated fat (g) | 0.02 |
| Carbohydrate (g) | 3.1 |
| of which sugar (g) | 2.2 |
| Dietary fibre (g) | 2.1 |
| Protein (g) | 2.3 |
| Salt (g) | 0.01 |
| Folic acid (B9 in µg) | 72 |
| Vitamin C (mg) | 29 |