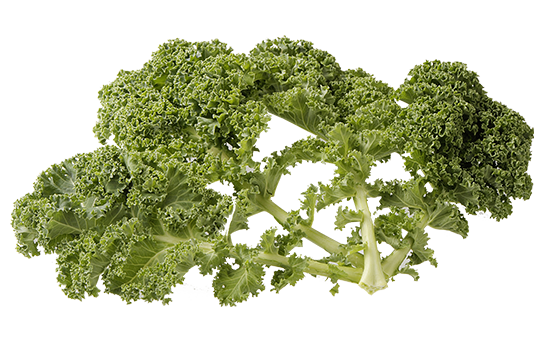 Did you know?
Kale is one of the oldest cabbage varieties and was a staple food in Rome and later in the Middle Ages in Europe. Nowadays, it is widely used in the cuisine of northern Europe and across the United States.
Of all the cultivated cabbages, kale is the only one where we eat the leaves and not the head! The long, curly leaves grow along a fairly tall central stem, giving a shrub-like appearance. Its leaves are harvested by hand, as and when they mature. The young shoots are therefore left on the base, providing a regular harvest during autumn and winter.
This superfood is our best ally in preparing for winter and can be eaten both cooked and raw.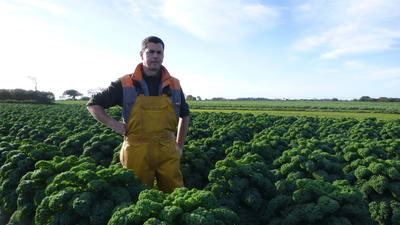 Cooking tips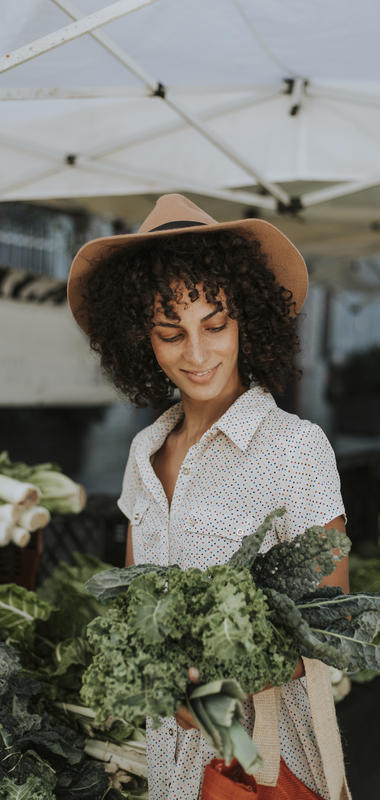 HOW TO CHOOSE KALE
Choose very green and healthy-looking kale leaves, avoid any with yellow spots or a dull colour.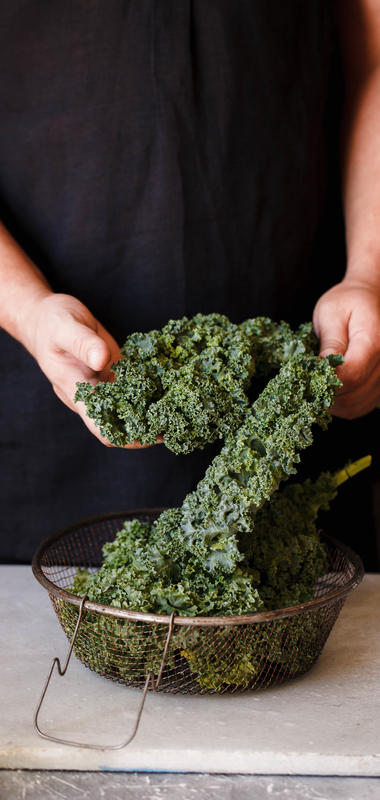 HOW TO PREPARE KALE
To prepare kale, simply wash the leaves well with water and drain them.
If you feel that the central rib of the leaves is too hard, remove it with a knife.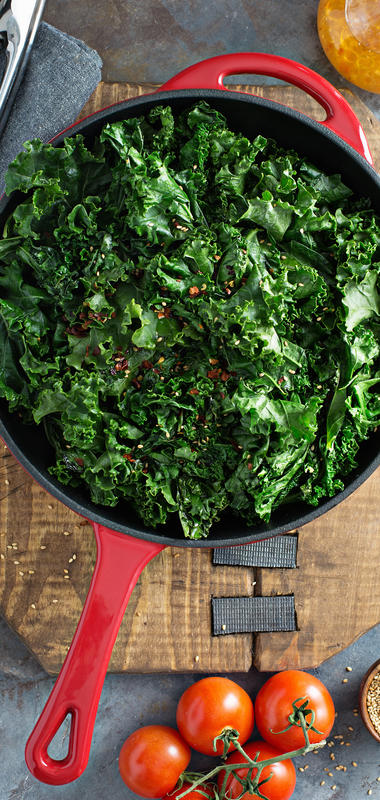 HOW TO COOK KALE
2 mins
In boiling water then a wok
20 to 25 mins
Cooked in the oven and eaten as crisps
Raw, kale can be enjoyed in salads and smoothies. Cooked, it can be used like the other brassicas: soups, purées, steamed, stir-fried in a wok with other vegetables etc.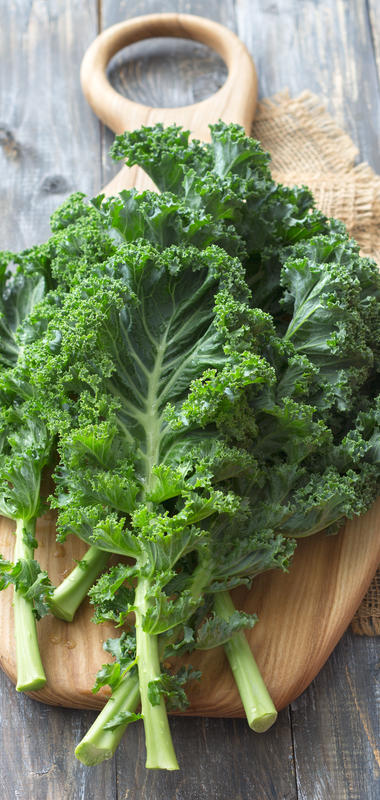 HOW TO STORE KALE
Kale leaves will keep for several days in your fridge's salad drawer.
However, eat them as soon as possible so that they are at their freshest.
You can also cook them in advance, they will keep for three days in an airtight container in the fridge.
Cooking suggestions
Kale can be eaten cooked: simply softened in oil and well seasoned, mashed, buttered, in soup, as crisps (baked), in lasagne, in a savoury tart, with pasta or rice dishes, as an accompaniment to fish, meat or even in an omelette etc.
It is also very popular raw: in smoothies (for example, kale, carrot, apple, ginger and lemon or kale, orange and banana) or in salads (for example, as a coleslaw with carrots and cauliflower).
Chef's tip
To soften kale, take several leaves and rub them carefully between your hands before leaving them to marinate in olive oil, for example, until they are very tender.
Nutrition
Kale has numerous health benefits. Indeed, its high content of nutrients essential to the body means it is ranked as a 'super food'. It is high in folic acid, vitamin C and pro-vitamin A and also a source of fibre and calcium.
| | |
| --- | --- |
| Energy (kj/kcal) | 148/36 |
| Fat (g) | 0.8 |
| of which saturated fat (g) | <0.2 |
| Carbohydrate (g) | 1.6 |
| of which sugar (g) | 1 |
| Dietary fibre (g) | 5.2 |
| Protein (g) | 2.9 |
| Salt (g) | 0.03 |
| Calcium (mg) | 235 |
| Pro-vitamine A (µg) | 350 |
| Folic acid (B9 in µg) | 70 |
| Vitamin C (mg) | 80 |