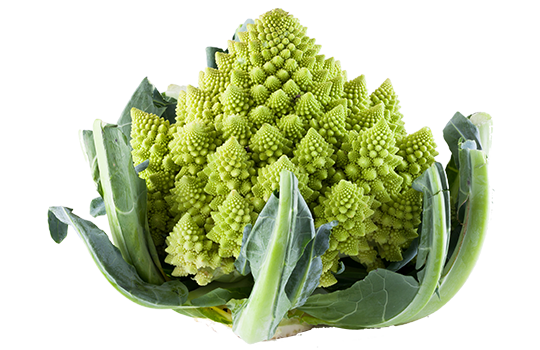 Did you know?
An ancestor of cauliflower and a cousin of broccoli, Romanesco takes its name from its original production area, Rome. The first Romanescos appeared in Brittany in the early 1990s.
As you will have noticed, the head of this brassica is atypical: each part of the vegetable, from the largest to the smallest, looks the same, endlessly! This 'fractal' vegetable (a mathematical name for a shape that endlessly repeats itself, a bit like snowflakes) adds a nice decorative touch to your plates. It is appreciated for its beauty (shape and colour) and also mild, sweet taste.
Down by the sea, in their mild Breton fields, Romanescos grow slowly, well protected by their large leaves. Entirely harvested by hand using a large knife, they are placed on a belt which transports them inside the trailer. Then Romanescos are immediately placed in wooden crates, ready for delivery. Packing in the field is a guarantee of optimal freshness on your plate!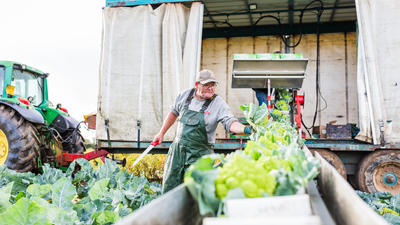 Cooking tips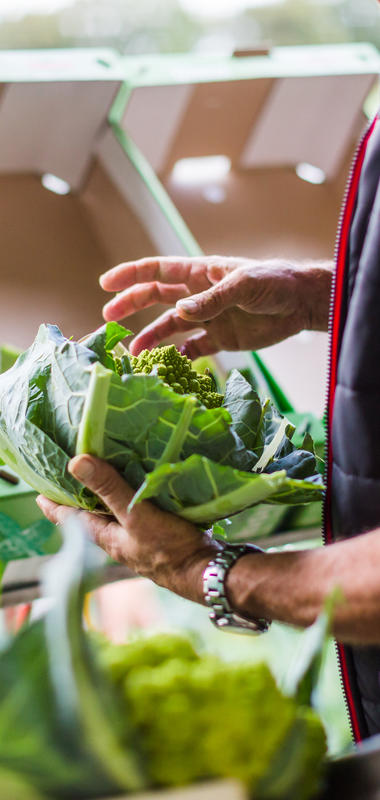 HOW TO CHOOSE ROMANESCO
Romanescos are notable for their particularly attractive and original look.
The head of Romanesco is naturally green and particularly high in chlorophyll, the result of the establishment of its fan-shaped leaves that help the plants profit from sunshine.
The fine conical inflorescences that make up the head give it a very distinctive appearance.
Choose a Romanesco that has very tight florets. It should be firm, very green, with no black or brown spots. The appearance of the leaves which surround it is a good sign of freshness.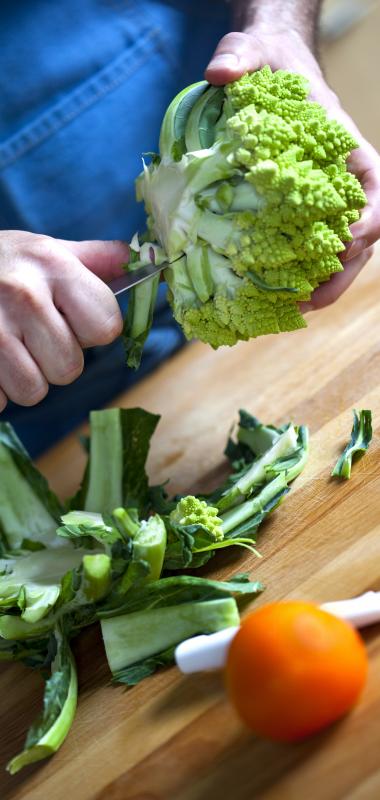 HOW TO PREPARE ROMANESCO
Start by removing the leaves and then wash your Romanesco.
Then everything depends on your recipe!
If you are pushed for time, prepare Romanesco 'couscous' or 'rice' in a food processor like you would for grated carrots (cut it into florets first). Manual grating works too but takes longer.
You can cut the Romanesco into florets for an aperitif or cooked dishes. You won't necessarily use the core, so save it for a soup.
Some people like to eat it in slices cooked like meat. Keep the parts not sliced for salad, soups etc.
You can also cook it whole, like roasted cauliflower.
HOW TO COOK ROMANESCO
Romanesco can be cooked in different ways:
8 to 12 mins
Steam cooking (pressure cooker)
6 to 10 mins
In boiling water
7 to 12 mins
In the microwave (for 250g of florets) with water
You can also eat them 'half-cooked': blanched for 2 to 3 minutes in salted boiling water then cooked in a pan or wok. To do this, brown them in a little butter or olive oil with Brittany pink garlic and chopped Traditional shallots.
Romanesco can also be eaten raw, with a yogurt and herb or curry sauce. You can also eat it cooked but cold, in salads for example.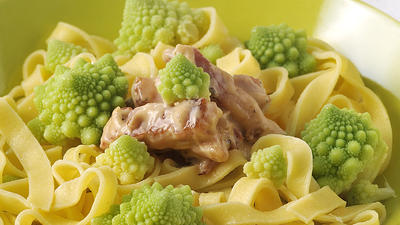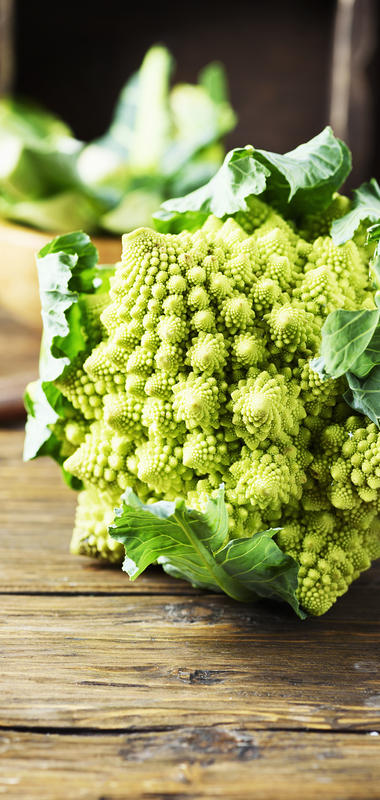 HOW TO STORE ROMANESCO
Romanesco can be kept for 2 or 3 days in the salad drawer of your fridge. But it will keep even better if you first wash it, divide it into florets and place it in an airtight container.
It can also be frozen (blanch it first).
Cooking suggestions
Romanesco can be eaten raw or cooked. Raw, it can be used in salads and in dips. To cook it, it can be steamed, mashed, pan-fried, cooked in a wok, included in quiches, tarts, gratins, soups etc. Its taste is less bitter, sweeter and finer than that of cauliflower. It has a slight nutty taste. It goes well with other brassicas, meat such as bacon, fish etc. You can also prepare it as 'couscous' (by grating it) to replace couscous in tabbouleh, tajines etc.
Chef's tip
Enjoy experimenting with the florets, cut them small, large, sliced etc. Quickly cooked, they bring a very appetising decorative touch to all your dishes: in pasta (the florets can even cook directly in the pasta water), in risottos, in mixed salads, in pan-fried vegetable dishes, in gratins (let the tops stick out), on a quiche, shaved over a soup etc.
Nutrition
The health benefits of Romanesco are numerous, raw and cooked. It is high in vitamin C and also a source of potassium, vitamin K and vitamin B9 (folic acid). Raw, it is also a source of vitamin B6.
| | |
| --- | --- |
| Energy (kj/kcal) | 177/42 |
| Fat (g) | 0.2 |
| of which saturated fat (g) | 0.05 |
| Carbohydrate (g) | 4.3 |
| of which sugar (g) | 3.1 |
| Dietary fibre (g) | 3.3 |
| Protein (g) | 4.1 |
| Salt (g) | 0.01 |
| Potassium (mg) | 371 |
| Folic acid (B9 in µg) | 36 |
| Vitamin K (µg) | 20 |
| Vitamin C (mg) | 82 |
| Vitamin B6 (mg) | 0.22 |
| | |
| --- | --- |
| Energy (kj/kcal) | 177/42 |
| Fat (g) | 0.2 |
| of which saturated fat (g) |   |
| Carbohydrate (g) | 4,4 |
| of which sugar (g) | 2.7 |
| Dietary fibre (g) | 3.1 |
| Protein (g) | 4.1 |
| Salt (g) | 0.01 |
| Potassium (mg) | 405 |
| Folic acid (B9 in µg) | 120 |
| Vitamin C (mg) | 65 |