Stored
by our market gardeners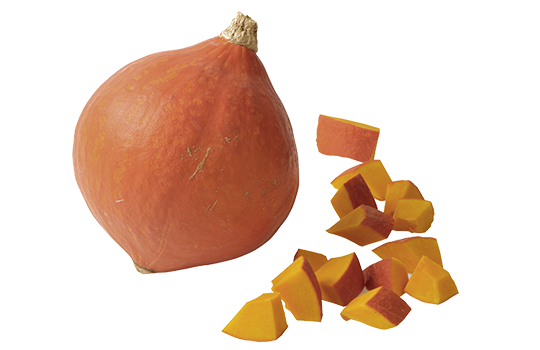 Did you know?
Potimarron squash is native to South America and was introduced to Japan by Portuguese navigators. It found its way to Europe very recently (a Japanese family brought the vegetable to France in 1957). Potimarron is a small cucurbit, with a brick red colour and orange-yellow flesh. The flesh is dense, with the flavour - even the texture - of chestnuts! Potimarron and pumpkins are all part of the same species, Cucurbita maxima, of which Potimarron is a variety. Its pear shape, the yellow colour of its flesh and its chestnut flavour have earned it the name of chestnut squash in some quarters.
Growing Potimarron can be broken down into several stages:
Step 1: Tillage to prepare the soil.
Step 2: Mulching of the field before planting.
What is mulching?
Mulching is a technique that consists of covering the soil with organic, mineral or plastic materials to allow the freshness of the early spring soil to be retained throughout the crop cycle, to warm the soil and naturally stifle weeds. The plastic used is generally biodegradable or is recycled after cultivation.
Step 3: Potimarron seeds are sown in the soil towards the end of May.
Fact: Potimarron seeds are planted between May and June when the soil begins to warm up and any risk of frost has passed.
Step 4: The leaves start to emerge from the soil a few weeks after sowing, before producing Potimarrons that continue to grow throughout the summer.
Step 5: With the help of secateurs, Prince de Bretagne's market gardeners cut the stems of the pumpkins. They let them dry and finish ripening in the field. After a week, they are carefully packed in wooden crates. The squashes are stored directly on the farm and then sold in the months following harvest.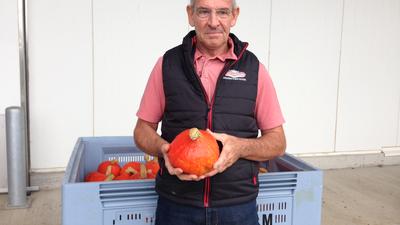 Cooking tips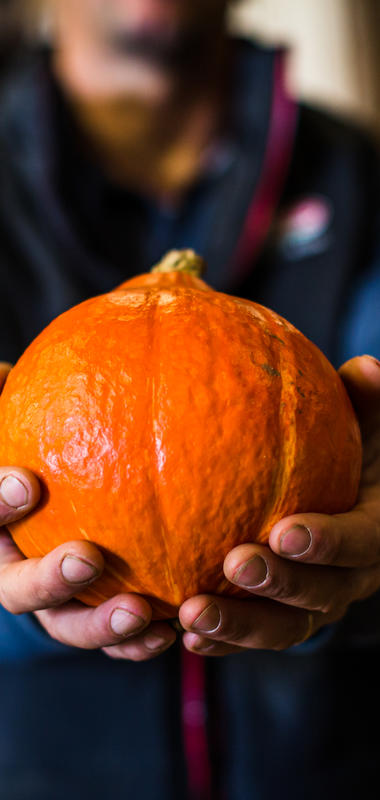 HOW TO CHOOSE POTIMARRON SQUASH
Choose a Potimarron with a homogeneous colour. The skin should not be cracked and should be firm to the touch: normally if you tap it gently it's as hard as wood.
For information, Potimarrons and pumpkins look alike but there are some important differences:
Potimarrons are much smaller than pumpkins.
The flesh of Potimarrons is denser than that of pumpkins.
The flavour of Potimarrons is more intense, with a very pronounced chestnut flavour.
Potimarron skins become tender when cooked, so are edible and there's no need to peel them.
Beyond soups and purees, because the flesh of Potimarrons is more consistent than that of pumpkins, it can be prepared in numerous ways (baked, sautéed, served as chips or crisps, in gratins etc.).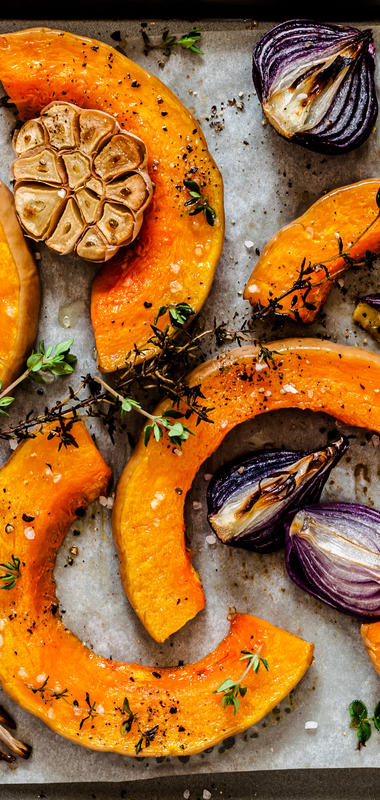 HOW TO PREPARE POTIMARRON SQUASH
They are very easy to cook. To prepare them, simply remove the seeds. There is no need to peel them as the skin can be eaten when they are well cooked and can be blended perfectly with the flesh in soups!
If you want to peel them:
1. Cut your Potimarron into fairly thin slices. With a large knife, you will quickly get the knack. Then, with a small knife, carefully remove the skin from each slice.
2. A second possibility: put the whole Potimarron in the oven for 15 minutes at 180°C (350°F). Let it cool and then follow method number one above (but it's much easier)!
Potimarron seeds can also be eaten! Rinse them, blanch them for 5 minutes in boiling water and dry them on a kitchen towel. Then grill them in a pan or in the oven with salt or spices. Particularly crispy, they are a big hit as an aperitif or in a mixed salad.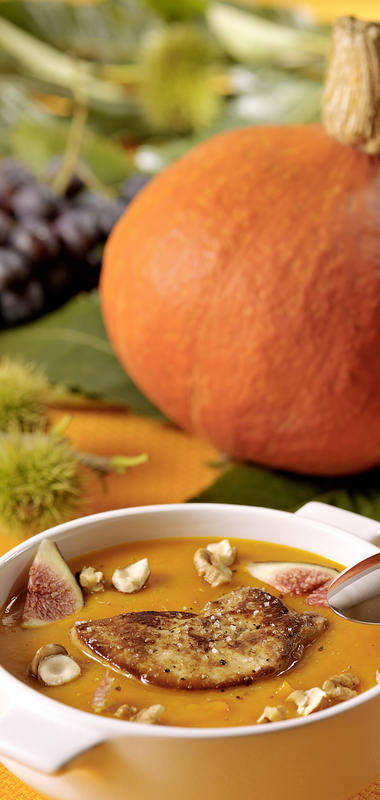 HOW TO COOK POTIMARRON SQUASH
The texture of Potimarron and its sweet, chestnut taste are second to none.
10 to 15 mins
Steam cooking
Potimarron fries well in a little fat. Served in cubes, it makes a very nice accompaniment. It can also be simply roasted in the oven, after coating the Potimarron chunks with oil. You can even make French fries from them, cooking them in hot oil at 180°C (350°) or, preferably, in the oven after coating them with oil.
Try raw Potimarron!
Prepare a soup or puree as usual.
Keep back a raw piece of Potimarron and cut it into shavings using a paring knife.
Just before serving, top the dishes with these shavings.
They are crunchy, add a little taste of fresh nuts and look lovely!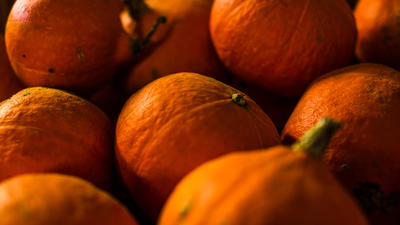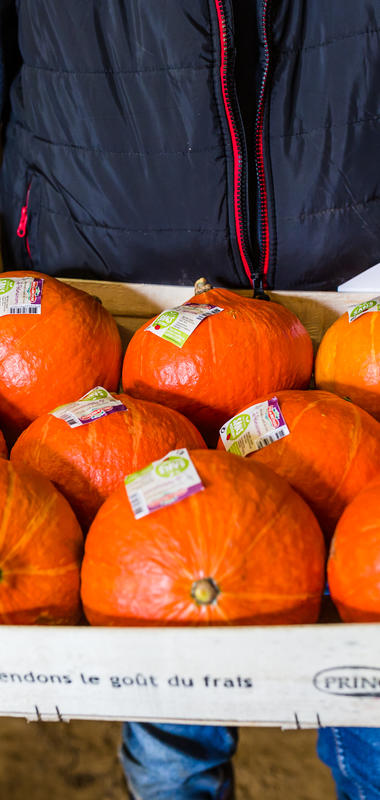 Cooking suggestions
Potimarron squash are a very easy vegetable to use, being suitable for all sorts of dishes: soup, mash, gratin, roasted chunks, even raw in salad!
Even better, its shape, colour, texture and flavour mean you can be constantly creative.
Explore new shapes: Potimarron flesh can be easily cut into cubes, strips, balls or shavings.

Explore new combinations: Potimarron's flavour, sweet but definitely present, highlights more powerful flavours such as onions, shallots, mushrooms and cheese.

Create a bowl: hollowed-out Potimarron squash are prefect for this.

Explore texture: Potimarron's very compact flesh becomes super smooth with the addition of a little milk, coconut milk, crème fraiche etc.

Play with colours: a beautiful orange colour like this is rare in the kitchen, so take advantage of it!
Chef's tip
Among the vegetables suitable for cakes and cupcakes we often find courgettes and parsnips, but Potimarron, with its texture and naturally sweet taste, is also perfect for sweet bakes. Crumbles, cakes, jam, cookies, pies, tarte tatin, brioches...give free rein to your imagination (and your appetite)!
Nutrition
Potimarron squash are a source of vitamin B9 (folic acid).
| | |
| --- | --- |
| Energy (kj/kcal) | 76/18 |
| Fat (g) | 0.1 |
| of which saturated fat (g) | 0.027 |
| Carbohydrate (g) | 3.1 |
| Dietary fibre (g) | 1.1 |
| Protein (g) | 0.63 |
| Salt (g) | 0.074 |
| Folic acid (B9 in µg) | 36 |