Stored
by our market gardeners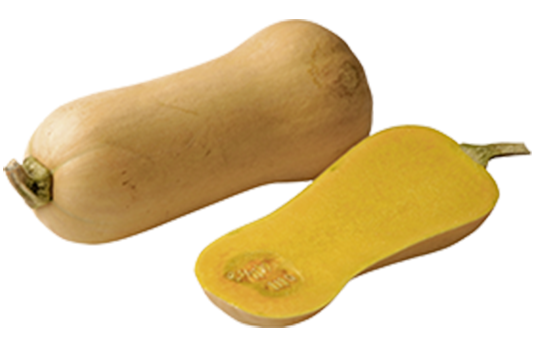 Did you know?
This squash has been used in cooking for 10,000 years. Butternut squash, with its soft and creamy flesh, is one of the original but lesser-known cucurbits. In France it is also called 'doubeurre'.
Butternut squash are grown in open fields and harvested by hand by Prince de Bretagne's market gardeners. They leave them to dry and finish ripening in the field. After a week, they carefully pack them in wooden crates. Butternut squash are stored directly on the farm and sold in the months following harvest.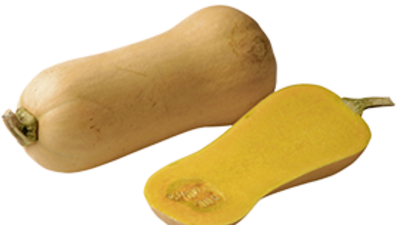 Cooking tips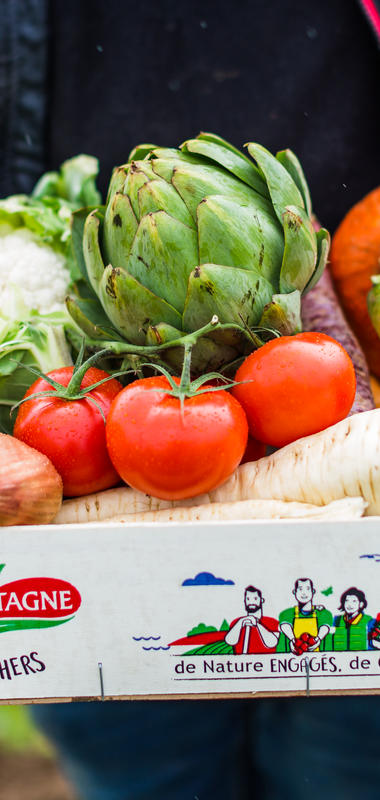 HOW TO CHOOSE BUTTERNUT SQUASH
Butternut squash should be firm and heavy, with no cracks in the skin.
The 'top' end of the butternut should be broad as this is the section with the most flesh. The other end contains pumpkin seeds. This 'lower' section of the vegetable is more rounded.
The darker the skin of the butternut, the longer ago it was harvested.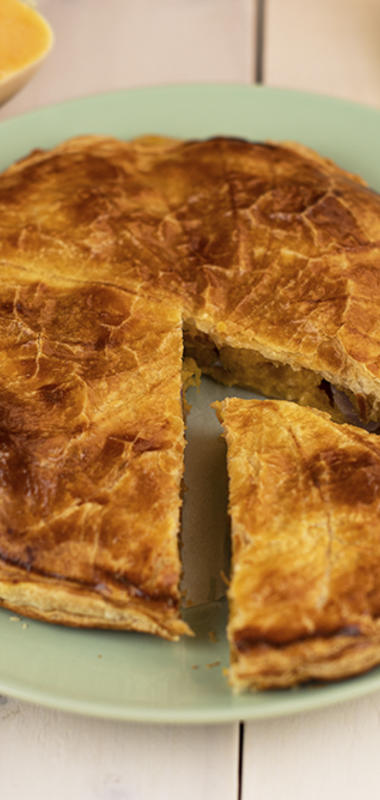 HOW TO PREPARE BUTTERNUT SQUASH
The skin of butternut squash is edible, so you can choose not to peel it, in which case it simply needs to be well rinsed.
If you prefer, you can peel the skin with a knife or a peeler. Then, depending on your recipe, you can dice it, make butternut chips or crisps or cut it in half for stuffing.
It is advisable to halve the squash, remove the filaments from the centre and set the seeds aside. You can then grill them to add a touch of crunch to your breakfast muesli or salads.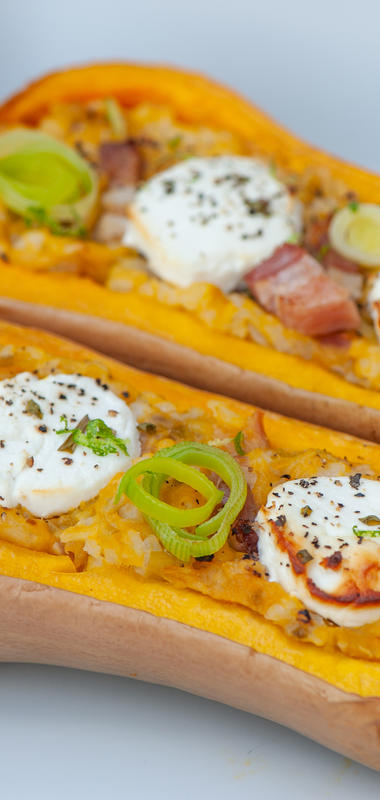 HOW TO COOK BUTTERNUT SQUASH
Butternut squash should only be eaten cooked:
10 to 15 mins
Steam cooking
Butternut squash has a medium firm texture and is quite supple with a nice grain. It has a medium hold during cooking and offers classic pumpkin flavours with hints of butter.
Cooking suggestions
Butternut squash is a vegetable that is very easy to cook and lends itself to many preparations:
Pre-cooked diced butternut squash can complement salad, risotto, pasta, quiche, pizza and gratin dishes or be blended to make a soup or puree.
You can also stuff and bake butternut squash in the oven. Halve the squash lengthways and use a spoon to remove the seeds and filaments. Fill the cavities with a mixture of goat's cheese and cream, quinoa and vegetables or meat and rice etc. Depending on the type of filling, the butternut halves can be precooked to avoid overcooking. Then cover with cheese and brown.
As a treat for kids, you can also turn butternut squash into crisps sprinkled with a few mild spices or even use them in sweet recipes such as cakes, muffins, tarts, soufflés and doughnuts etc.
Chef's tip
Butternut squash has a very mild, sweet flavour, so if you are using it in savoury dishes it is important to season it well with salt, pepper and spices.
Nutrition
Butternut squash is high in pro-vitamin A and a source of potassium and vitamin C.
| | |
| --- | --- |
| Energy (kj/kcal) | 105/25 |
| Fat (g) | 0.1 |
| of which saturated fat (g) | 0.02 |
| Carbohydrate (g) | 4.03 |
| of which sugar (g) | 2.2 |
| Dietary fibre (g) | 2 |
| Protein (g) | 1 |
| Salt (g) | 0.01 |
| Potassium (mg) | 352 |
| Pro-vitamine A (µg) | 705 |
| Vitamin C (mg) | 31 |