Packed
by our market gardeners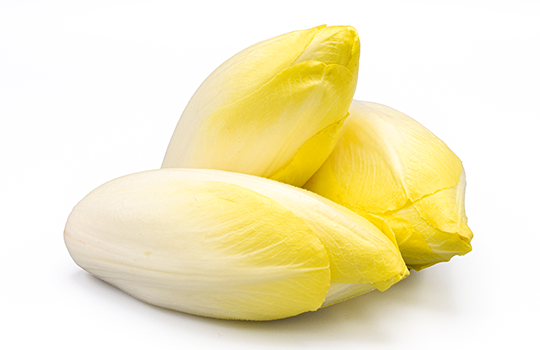 Did you know?
Endives are part of the Asteraceae family. The term 'endive' appeared at the beginning of the 14th century. It comes from the Latin 'intibum' and the Greek 'entubion', meaning 'wild chicory'. Forcing chicory to obtain endives involves growing already established roots in the dark. It was not until around 1830 that the white endives that we know of today made an appearance.
Endives are grown on Brittany's Coast of Legends, taking advantage of the sandy soils of the Kerlouan region. Produced from September to June on the coastal lands of northern Finistère, Prince de Bretagne's endives owe their delicacy and immaculate colour to the special attention of market gardeners who specialise in this rather unusual crop. Endives are first sown in the soil in spring. In the autumn, producers harvest the roots which are then transplanted in dark cellars to produce the white leaves which, when mature, become endives as we know them. Endives are prepared on the farm one by one using a knife before being packed directly by Prince de Bretagne's market gardeners. Packing directly on the farm ensures maximum freshness.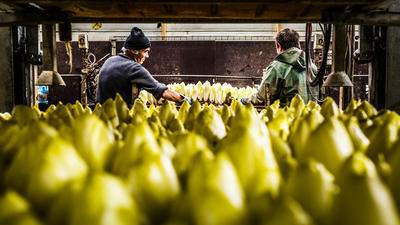 Cooking tips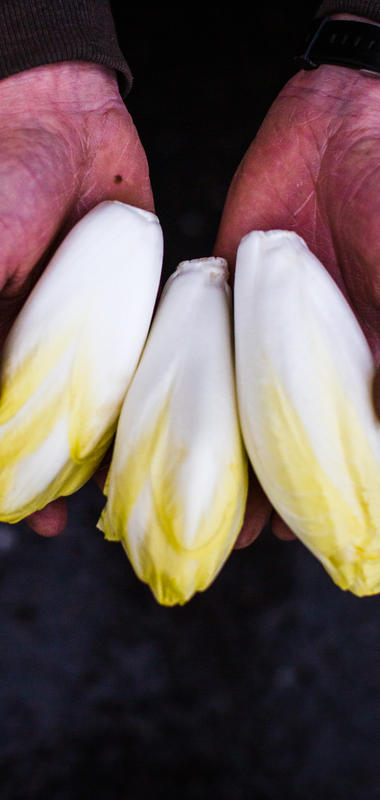 HOW TO CHOOSE ENDIVES
Choose endives with firm leaves and no marks. The base should be as white as possible, avoid those that lack whiteness as they may be too bitter.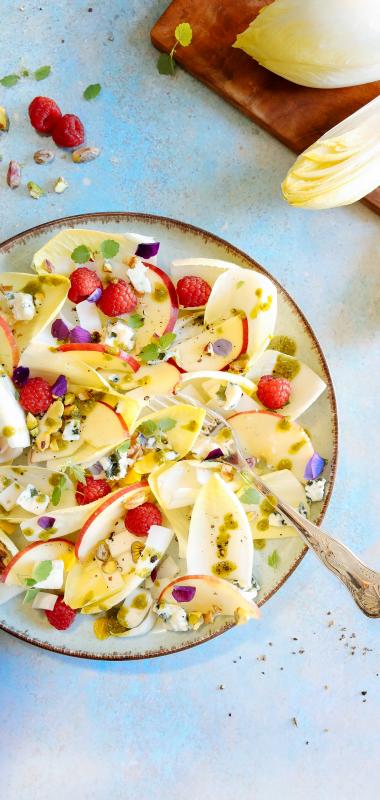 HOW TO PREPARE ENDIVES
Start by cutting the base, then remove the outer leaves.
To limit bitterness you can remove a small cone of the base.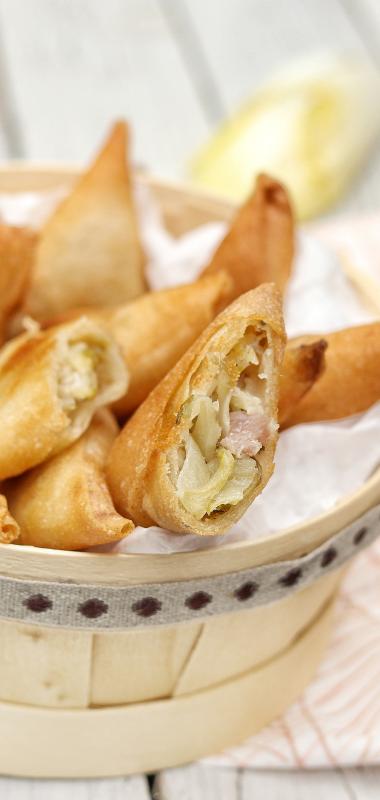 HOW TO COOK ENDIVES
Their subtle taste and crispy texture give them a character like no other. They are delicious raw, but you can also cook them.
Depending on the dish, endives can be cooked in different ways:
20 mins
Simmered in water or milk
10 mins
Steam cooking (pack them tightly as they release a lot of water)
20 mins
In the oven (after initial steam cooking) for an endive gratin
In order to reduce the slight bitterness that emerges during cooking, you can add sugar or milk to the cooking liquid.
And to keep endives white when cooking, sprinkle them with a few drops of lemon juice.
Cooking suggestions
Leaves served separately, chopped, stewed, steamed, braised, au gratin, endives can really meet all culinary needs!
Endives are excellent in salads and can be eaten raw as well as cooked. As an aperitif, use the endive leaves as fresh and crunchy toasts garnished with homemade fish rillettes, chickpea or beet houmous, fromage blanc with curry powder etc.
As a gratin or even pan-fried, endives are easy to prepare and easy to cook.
Chef's tip
Endives with ham for children: rather than serving them whole wrapped in ham, cut the endives and ham into small cubes and mix with the béchamel sauce before baking in the oven.
Nutrition
Endives have many health benefits. They are high in vitamin K and a source of folic acid.
| | |
| --- | --- |
| Energy (kj/kcal) | 88/21 |
| Fat (g) | 0.2 |
| of which saturated fat (g) | 0.034 |
| Carbohydrate (g) | 3.15 |
| of which sugar (g) | 2.2 |
| Dietary fibre (g) | 1 |
| Protein (g) | 1.1 |
| Salt (g) | 0.005 |
| Folic acid (vitamin B9 in µg) | 44.1 |
| Vitamin K (µg) | 231 |