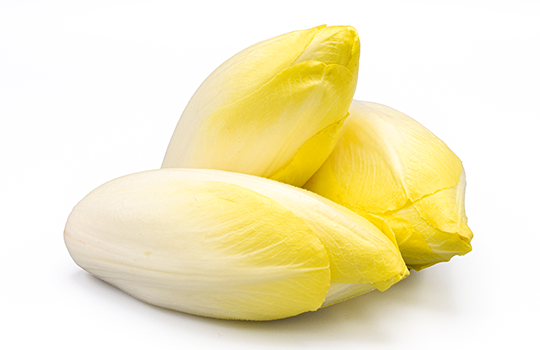 Did you know?
Our market gardeners cultivate younger, smaller, milder and crunchier endives for you: you can find them in-store under the name of 'jeunes pousses d'endives' (young endives).
Young endives are grown like classic endives on the Côte des Légendes, where they thrive in the sandy soils of the Kerlouan region. Young endives are first sown in the ground and then the roots are collected and transplanted to dark cellars, where the white leaves are produced. Young endives are harvested earlier than classic endives (14 days versus 21 days). They are therefore smaller and have a milder (less bitter) taste than classic endives. Young endives are prepared one by one by hand with a knife on the farm, before being packed directly by Prince de Bretagne's market gardeners. Packing directly on the farm ensures maximum freshness.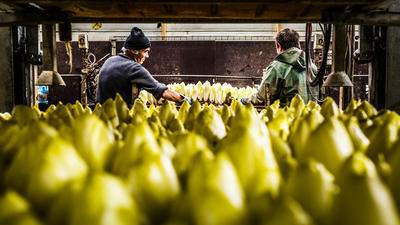 Cooking tips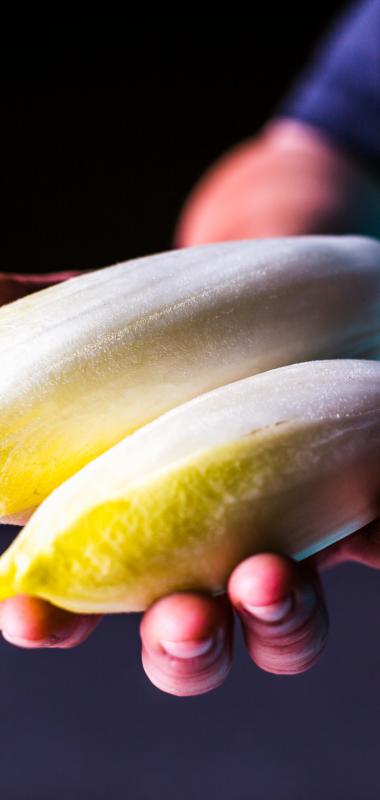 HOW TO CHOOSE YOUNG ENDIVES
Choose young endives with firm, unblemished leaves. The base should be as white as possible, avoid those that lack whiteness.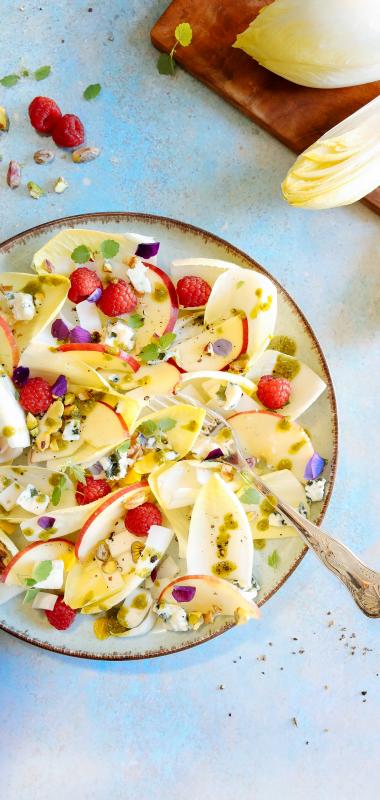 HOW TO PREPARE YOUNG ENDIVES
Start by trimming the base and washing young endives.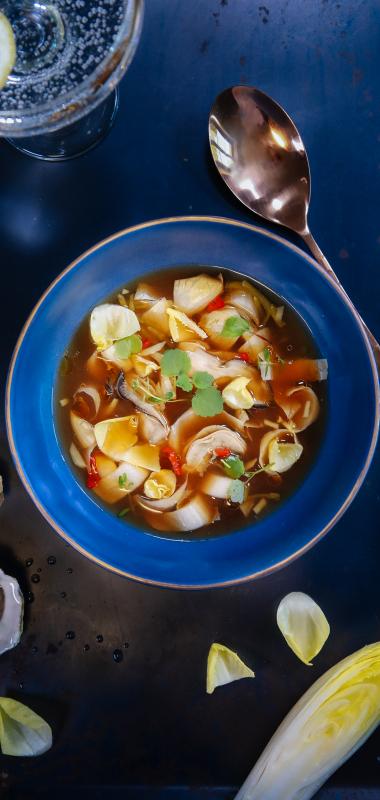 HOW TO COOK YOUNG ENDIVES
They are delicious raw but you can also cook them.
Depending on the dish, young endives can be cooked in different ways:
15 mins
In a pan with boiling water or milk
Less than 5 mins
In the microwave
5 mins
Steam cooking (pack them tightly because they will give off lots of water)
10 mins
In the oven (after steaming) for an endive gratin
They are smaller so they cook faster than classic endives! Don't hesitate to keep them whole because they will really enhance your plates.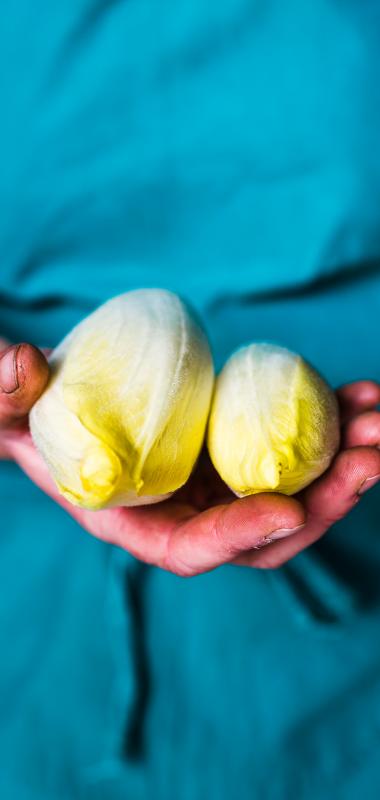 HOW TO STORE YOUNG ENDIVES
Young endives should be eaten white, slightly edged with yellow at the tip of the leaves. They turn green like classic endives in the light. To avoid this, it's enough to keep them away from light, in the salad drawer of the fridge, for example. Young endives can be stored for up to 6 days in the fridge.
Cooking suggestions
Young endives are ideal for aperitifs (they can serve as 'mini-trays'), in salads or as a simple, healthy and quick snack!
What if we cook them while preserving their flavour and delicacy?
Cut young endives in half lengthwise.
Garnish them with ham and cheese, Roquefort and walnuts or even mascarpone and prawns.
Grill them for 5 to 10 minutes. Serve hot as an aperitif!
If you cannot find young endives, you can use normal endives. Simply remove the outer leaves and save them for a salad.
Chef's tip
Young endives are ideal for cooking quick and tasty recipes. Their mild taste will appeal to young and old alike! Endive gratin with ham remains a great classic and works really well with young endives.
Nutrition
Endives have many health benefits. They are high in vitamin K and are a source of folic acid.
| | |
| --- | --- |
| Energy (kj/kcal) | 88/21 |
| Fat (g) | 0.2 |
| of which saturated fat (g) | 0.034 |
| Carbohydrate (g) | 3.15 |
| of which sugar (g) | 2.2 |
| Dietary fibre (g) | 1 |
| Protein (g) | 1.1 |
| Salt (g) | 0.005 |
| Folic acid (B9 in µg) | 44.1 |
| Vitamin K (µg) | 231 |