France's number 1
artichoke producer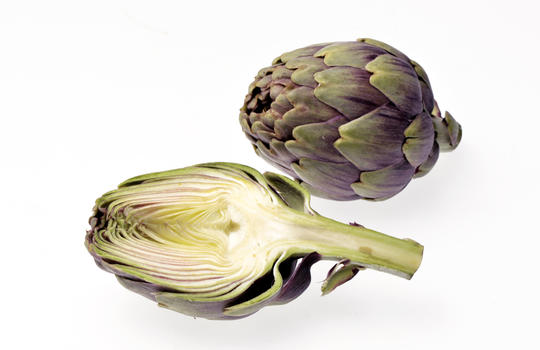 Did you know?
Artichokes were first introduced in France on the table of Queen Catherine de Medici. The artichoke belongs to the Asteraceae family. It is one of the rare crops where the flower bud is eaten: what we know as the heart. The flower bud (heart) is surrounded by bracts (or leaves), the bottom ends of which are edible. Traditionally eaten in southern France and Italy, Petit Violets are now popular throughout France.
Elongated and conical in shape, and green and purple in colour, Petit Violet artichokes are recognisable by their small size. They can be eaten cooked or raw and the heart has no hairy choke. They are sold by the head and also in bunches of five heads called 'poivrade'.
Artichokes are cultivated entirely manually. They require 250 to 300 hours of work per hectare (compared to eight hours per hectare for cereal crops) and eight passes per plot for harvesting. Plants remain in the ground for three years. At harvest time, market gardeners cut the heads one by one by hand, using a knife, when they reach maturity. After harvesting each year, artichokes are cut back to ground level and a new clump then forms, with the market gardeners selecting a single shoot (a 'sucker') by hand. Each sucker produces a large central artichoke (called the 'mother') and several smaller ones on the sides (the 'wings'). Numerous passages for mechanical weeding using hoes are conducted in the fields throughout the year.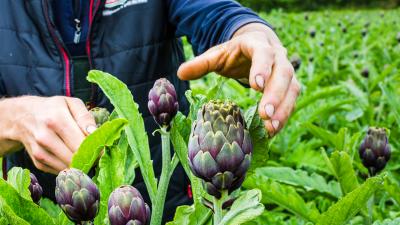 Cooking tips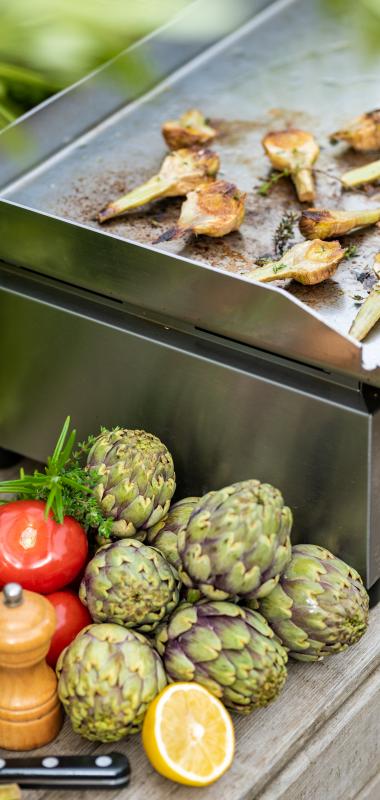 HOW TO CHOOSE PETIT VIOLET ARTICHOKES
Petit Violet artichokes should be firm and free of blemishes with a tight flower head and thick leaves. Check the stems and the leaves that sometimes accompany them: their vigour, tautness and bright, pure colour are signs of quality and freshness.
Like our other vegetables, Petit Violet artichokes are delivered directly after harvesting for maximum freshness.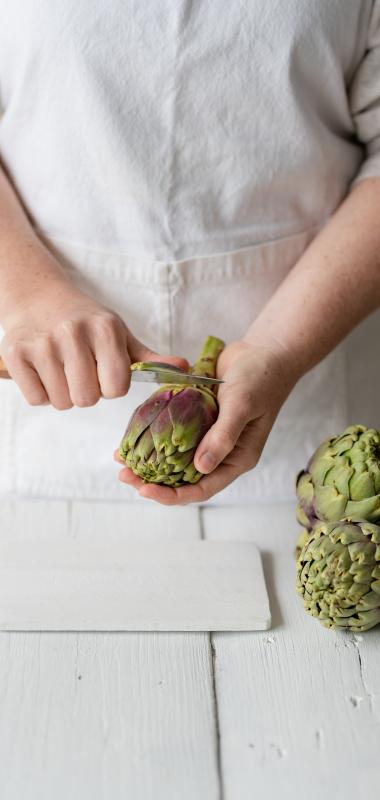 HOW TO PREPARE PETIT VIOLET ARTICHOKES
Unlike larger globe artichokes, the heart, tender leaves and part of the stalk of Petit Violet artichokes can be eaten.
Begin by washing the artichoke. Preparation is then very simple:
– Remove the first leaves by pulling on them using a knife. They break where they get tender, so the job's practically done for you!
– Continue by working your way all around the artichoke. With a little practice, you can pick several leaves at a time, making it a rapid job.
– Cut off the tip, keeping the more tender parts.
– Tidy up the whole artichoke and peel the stem.
Now cut the artichoke lengthwise to produce two or four pieces. Once peeled, artichokes oxidize very quickly. Dip your Petit Violets in water to which you have added lemon juice as you go to retain their pretty colour.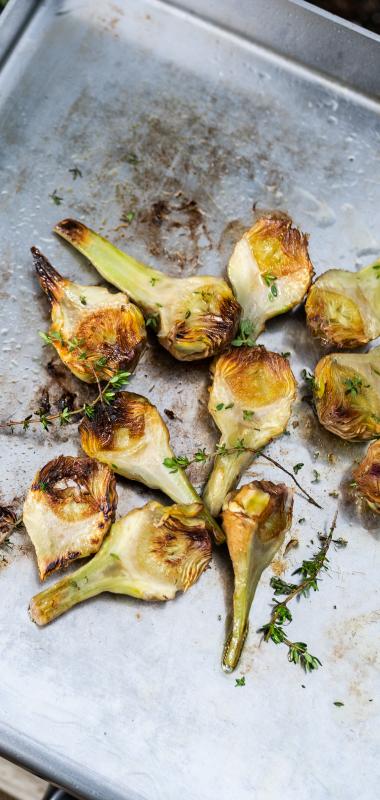 HOW TO COOK PETIT VIOLET ARTICHOKES
These little artichokes have no hairy choke and are not eaten like globe artichokes! They can be enjoyed raw, marinated or cooked.
Petit Violets are the easiest and fastest variety to cook, so allow:
5 to 10 mins
In boiling water
10 to 15 mins
Steam cooking
In summer, you can even grill them for 10 minutes on a plancha.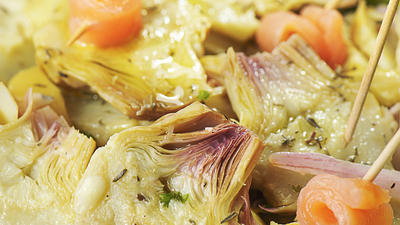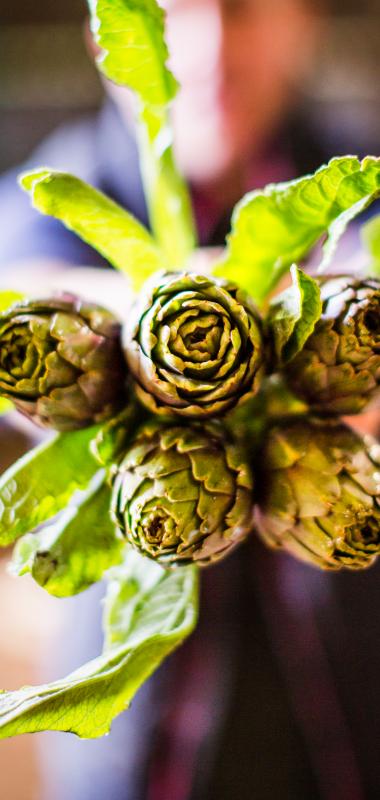 HOW TO STORE PETIT VIOLET ARTICHOKES
Petit Violet artichokes are delicious fresh. They will keep for a few days in the salad drawer of your refrigerator.
Artichokes can also be frozen. Before freezing, they should be prepared and blanched in water to which lemon juice has been added.
After cooking, you can also preserve Petit Violet artichoke hearts in jars filled with olive oil. They will keep for several months.
Cooking suggestions
A vegetable typically used in Mediterranean cuisine, Petit Violets can be enjoyed in numerous ways. They can be eaten both cooked and raw. They are great cut into strips and cooked in a pan with tomatoes and Roscoff PDO onions, accompanied by a spicy sauce. Petit Violet artichokes are equally suitable as an aperitif, a starter or as a main course!
Chef's tip
While these artichokes are very popular in southern France, they fit perfectly with Breton recipes such as crêpes and savoury pancakes!
Nutrition
Artichokes offer numerous health benefits. They are high in fibre and potassium, and also a source of vitamin B9 (folic acid).
| | |
| --- | --- |
| Energy (kj/kcal) | 201/48 |
| Fat (g) | 0.4 |
| of which saturated (g) | 0.11 |
| Carbohydrate (g) | 4.3 |
| of which sugar (g) | 1.6 |
| Dietary fibre (g) | 7.3 |
| Protein (g) | 3.2 |
| Salt (g) | 0.04 |
| Potassium (mg) | 534 |
| Folic acid (B9 in µg) | 51 |
| Vitamin K (µg) | 14.8 |