France's number 1
artichoke producer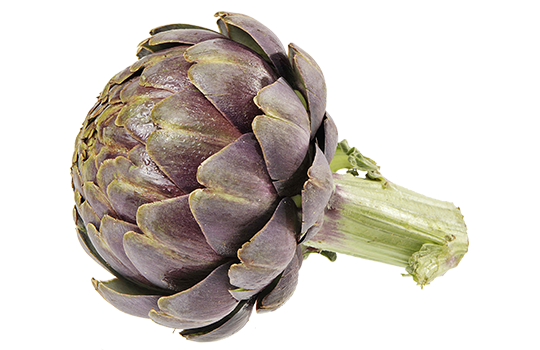 Did you know?
Cardinal is a new variety of fleshy artichoke exclusive to Prince de Bretagne's market gardeners. It is notable for its purple colour, 'closed' head and less thorny leaves. Its mild and sweet flavour has been tested by consumers and is recognised by them.
The artichoke belongs to the Asteraceae family. It is one of the rare crops where the flower bud is eaten: what we know as the heart. The flower bud (heart) is surrounded by bracts (or leaves), the bottom ends of which are edible.
Artichokes are cultivated entirely manually. They require 250 to 300 hours of work per hectare (compared to eight hours per hectare for cereal crops) and eight passes per plot for harvesting. Plants remain in the ground for three years. At harvest time, market gardeners cut the heads one by one by hand, using a knife, when they reach maturity. After harvesting each year, artichokes are cut back to ground level and a new clump then forms, with the market gardeners selecting a single shoot (a 'sucker') by hand. Each sucker produces a large central artichoke (called the 'mother') and several smaller ones on the sides (the 'wings'). Numerous passages for mechanical weeding using hoes are conducted in the fields throughout the year.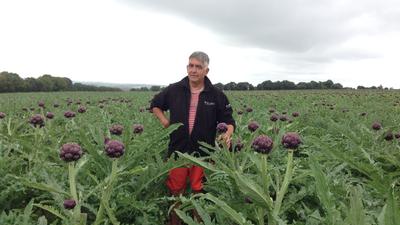 Cooking tips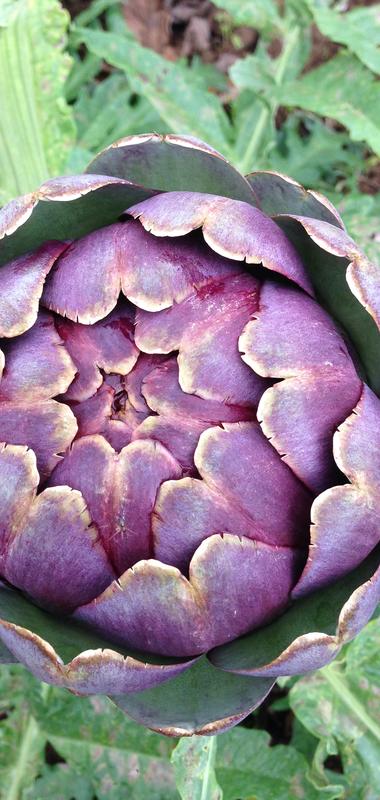 HOW TO CHOOSE CARDINAL ARTICHOKES
Cardinal artichokes should have a striking purple colour, as their name suggests. Artichoke heads should be heavy, free of blemishes and its leaves brittle and tight.
HOW TO PREPARE CARDINAL ARTICHOKES
To avoid oxidation, just before cooking start by breaking the stalk at its base and not cutting it: breaking the stalk makes it possible to extract the fibres that connect it to the heart. Then wash the artichoke.
And for the more expert, you can extract the heart of the artichoke as you prepare it: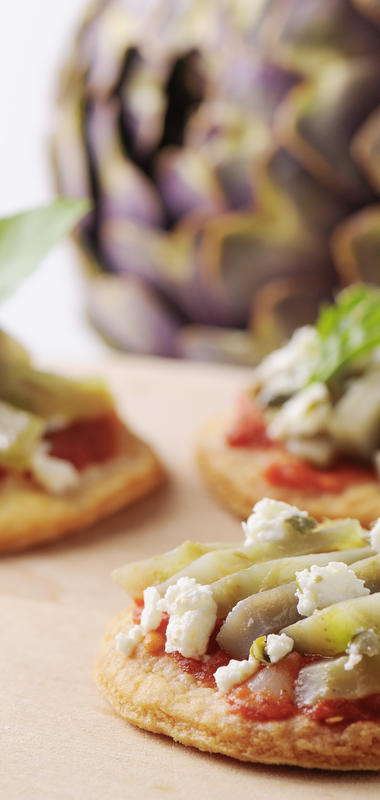 HOW TO COOK CARDINAL ARTICHOKES
Cardinal artichokes offer a very pleasant, sweet flavour, with fruity, even floral, notes. Several cooking methods are possible for Cardinal artichokes:
30 to 40 mins
In boiling water
20 to 30 mins
Steam cooking (pressure cooker)
9 to 11 mins
In the microwave
And to tell if it's done, pull off one of the leaves. If it comes off easily your artichoke is ready to enjoy!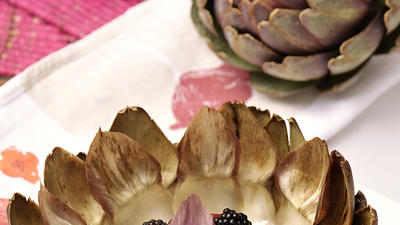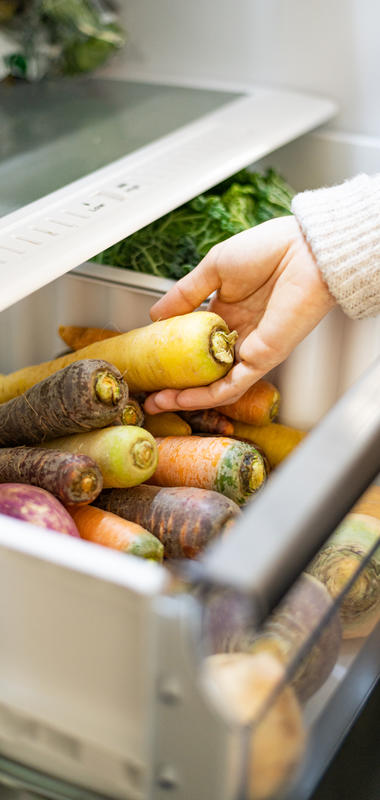 HOW TO STORE CARDINAL ARTICHOKES
All producers will tell you that artichokes are best a few days after harvest, even when a little withered. They can be stored for a few days in a cool place away from the light. You can also submerge the stem like a flower in a vase. Do not cut the stalk before storage as it protects the artichoke from oxidation.
Artichokes can also be frozen, though they should first be blanched in water to which lemon juice has been added.
Cooking suggestions
Cooked artichokes can be eaten in many ways, both as an aperitif and a main course.
As an aperitif, for example, you can dip the leaves in different sauces (vinaigrette, mayonnaise, yogurt with herbs and spices etc.) or transform the hearts into caviar! As a main course, they can be eaten  whole, stuffed or the cooked hearts can be used in vegetarian recipes (au gratin with cheese) or with meat or fish (tagine, stir-fries, pizza etc.).
Chef's tip
Add a few drops of lemon or even a slice of lemon to the cooking water as this will maintain the artichoke's colour and prevent the heart from darkening during cooking.
Nutrition
Artichokes offer numerous health benefits. They are high in fibre and potassium, and also a source of vitamin B9 (folic acid).
| | |
| --- | --- |
| Energy (kj/kcal) | 240/58 |
| Fat (g) | 0.3 |
| of which saturated fat (g) | 0.1 |
| Carbohydrate (g) | 5 |
| of which sugar (g) | 13 |
| Dietary fibre (g) | 12.4 |
| Protein (g) | 2.6 |
| Salt (g) | 0.04 |
| Potassium (mg) | 637 |
| Folic acid (B9 in µg) | 40.7 |
| Vitamin K (µg) | 14.8 |