Harvested
by hand or machine
Sold immediately
after harvest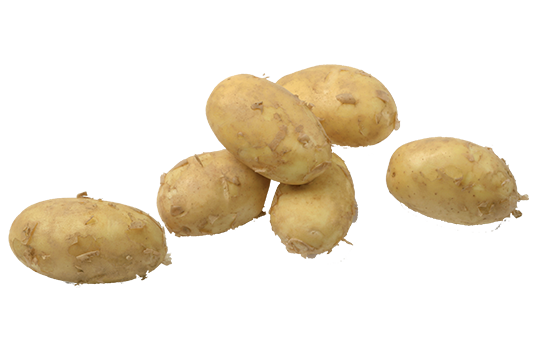 Did you know?
Cultivated for more than 3,000 years around the world, potato production has only developed in France since the 18th century. The first Early potatoes initially stemmed from a clever trick employed by gardeners, who harvested a few tubers per plant before maturity to allow the other potatoes to grow.
Early potatoes are the first of the year to be harvested: they are early varieties and are harvested before maturity. In the fields, the tops are still green and some flowers are still present. Particularly sweet with a very thin skin, they are shipped immediately to guarantee maximum freshness to consumers.
Prince de Bretagne's Early potato season is divided into two parts:
• Primalines are marketed from February to June. Producers harvest and pack them by hand, with their precocity and flavour earning them the title of an 'Extra early'.
• Primabreizh are available from mid-May. They are harvested mechanically, then washed with great care, because even though they are more resistant than Early Primalines, they are still a fresh vegetable requiring careful handling. They are ideal boiled or sautéed, as a garnish or in salads.
Remember that early potatoes are harvested before they are fully ripe and so not all the sugar has yet turned into starch, which is part of the reason for their incomparable taste. The other factors for their great taste are the good soils and pure air of Brittany, alongside the expertise of the producers who cultivate them from February through to the end of July.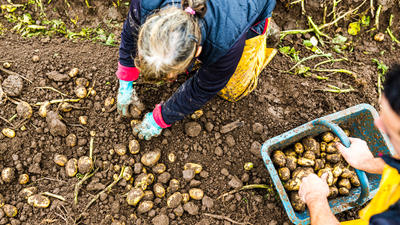 Cooking tips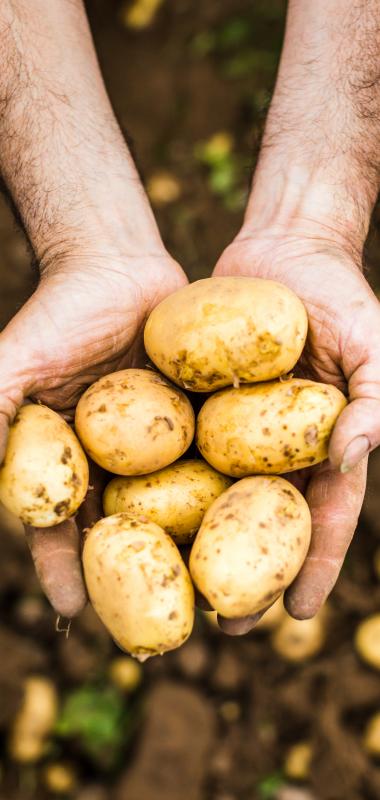 HOW TO CHOOSE EARLY POTATOES
Early potatoes are delivered directly after harvest. Look for the word 'Primeur' (Early) and check their firmness. Look for a homogeneous colour, with no green or black spots and no sprouts.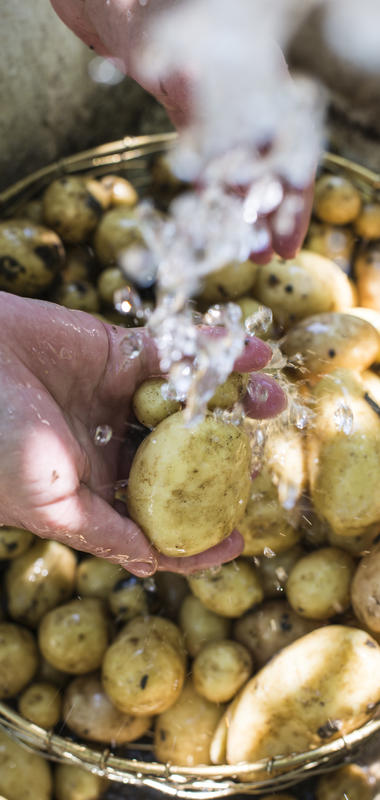 HOW TO PREPARE EARLY POTATOES
With their thin, clear skin, Early potatoes do not need to be peeled before cooking. Run them under water and dry them using a tea towel.
It is preferable to cook them whole to preserve all the advantages of this exceptional produce, but you can cut them to suit your recipe, in particular for oven cooking.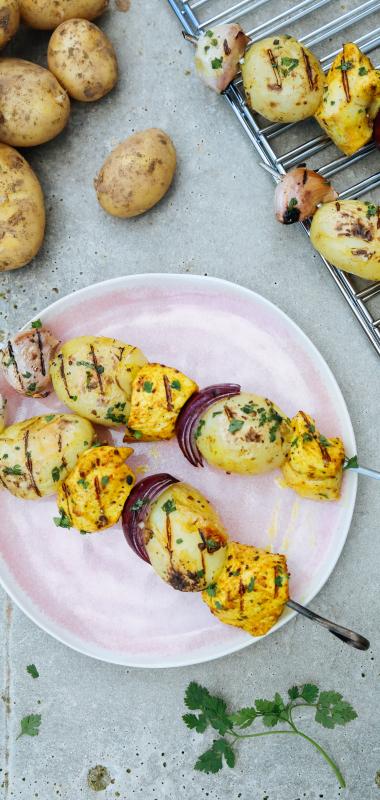 HOW TO COOK EARLY POTATOES
Early potatoes, what a flavour! Or should we say, what flavours! We like them naturally as they are so sweet. But we also like them browned, they are so tender under their slightly caramelised exterior. And you must try them crushed!
Early potatoes can be cooked many different ways:
20 to 25 mins
In boiling water
50 mins
Oven baked in their skins
8 to 10 mins
In the microwave
15 to 30 mins
Steam cooking
You can also cook them in a casserole dish by starting the cooking over medium heat and then adding spices and aromatics (thyme, bay leaf etc.).
Small potatoes can be cooked in a pan. Fry your small potatoes in a little olive oil for about 15 minutes. Once they are cooked, add butter.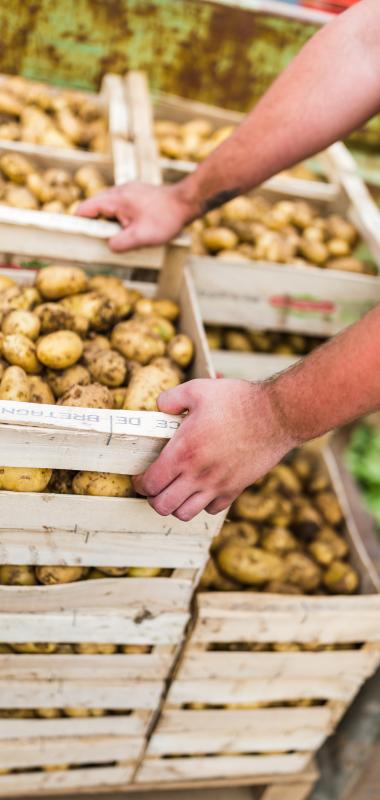 HOW TO STORE EARLY POTATOES
Early potatoes are fragile and should be eaten within days of purchase. They are a fresh vegetable that can be stored away from light (to avoid them turning green) in a cool, dry place, or in the refrigerator. But what's the good of keeping them? You might as well enjoy them immediately as they age quickly, partly drying out and losing that much sought-after fondant texture.
Cooking suggestions
Above all, keep it simple! Early potatoes are great on their own: with a knob of semi-salted butter and salt, with a few herbs and a drizzle of olive oil or a few drops of balsamic vinegar.
They are a great pairing with dishes incorporating a sauce and as an accompaniment to fish, meats, shellfish and other seafoods. They are ideal eaten whole, but you can also make a sweet and tender mash.
Chef's tip
For even cooking, select Early potatoes of the same size.
Nutrition
Early potatoes are notable for their lightness, their sugars not having been transformed into starch. Their health benefits are numerous and they are a source of vitamin C and folic acid (vitamin B9).
| | |
| --- | --- |
| Energy (kj/kcal) | 303/72 |
| Fat (g) | <0.1 |
| of which saturated fat (g) |   |
| Carbohydrate (g) | 14.9 |
| of which sugar (g) |   |
| Dietary fibre (g) | 2.13 |
| Protein (g) | 1.84 |
| Salt (g) |   |
| Folic acid (B9 in  µg) | 53.8 |
| Vitamin C (mg) | 13 |