Packed
by our market gardeners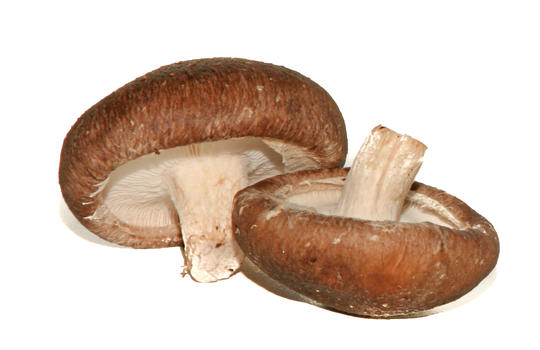 Did you know?
Native to Asia, Shiitake are the second most cultivated mushroom in the world and one of the most fragrant. They have been grown in Brittany since 1988. Today, 8 market gardeners located in northern Finistère grow Prince de Bretagne's Shiitake mushrooms.
The sweet flesh of Shiitake has an aroma of undergrowth. Its texture is similar to that of Ceps (Porcini). It is easily recognised due to its white stalk and brown-shaded cap. It is also known under other names, for example, Lentin du Oak or Lentin de Saint-Pol in France and the Sawtooth Oak mushroom in English-speaking countries.
They are grown sheltered from bad weather in rooms in which the temperature, humidity and light are controlled. They grow on a substrate composed of straw, oak sawdust and water. The Breton climate is particularly suited to the cultivation of these mushrooms, which are produced year-round with no fertilisers or other treatments.
Prince de Bretagne producers cut each stalk, which is too fibrous to be eaten, with a knife and then pack Shiitake directly on the farm. Shiitake harvesting is done by hand every day of the week, including Sundays!
A new practical (200g) and sustainable (100% cardboard) tray of Prince de Bretagne Shiitake is now available. Until now they were only sold loose in 1kg and 2kg boxes. This new fully recyclable packaging is a great way to discover an extraordinary mushroom!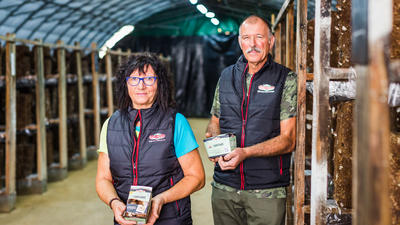 Cooking tips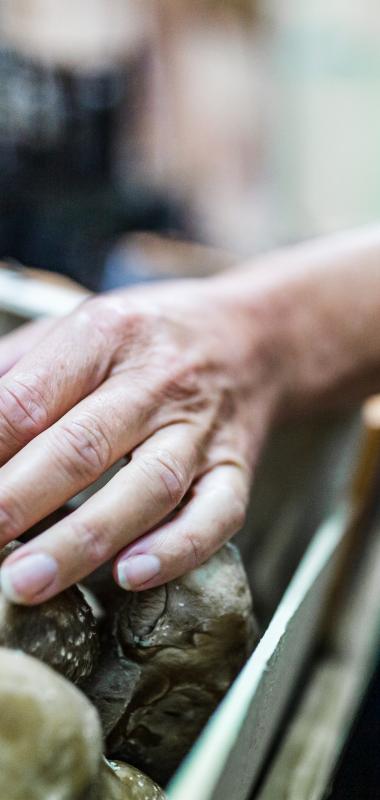 HOW TO CHOOSE SHIITAKE
Shiitake caps should be regular and brown in colour. Mushrooms should be firm and fresh.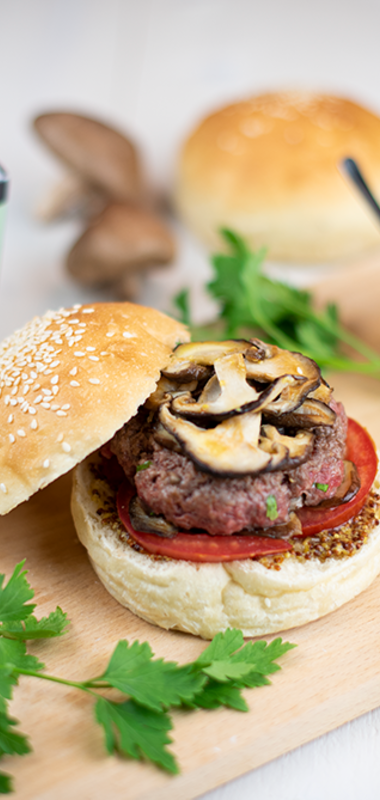 HOW TO PREPARE SHIITAKE
Their stalks are already removed, so that is one job less! Gently wash the mushrooms before cooking. However, avoid soaking them in water as they are porous. It is best to wait until the last moment to wash them so they don't get damaged. They can then be cooked whole, sliced, quartered, diced or even minced.
Cut your mushrooms with a very sharp kitchen knife, ceramic knives are ideal for this. Depending on your recipe, you can cut them into slices or use them whole. Rather large slices lend themselves particularly well to side dishes, while smaller pieces will be ideal in soups, fillings and sauces.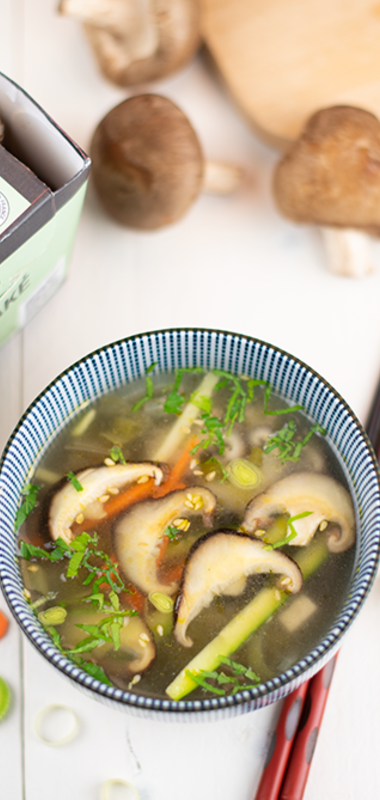 Cooking suggestions
Shiitake mushrooms are suitable for red or white meat dishes, soups, sauces, risotto, with vegetable purees etc. You are spoiled for choice! They also pair very well with fish such as salmon and with scallops.
In Japan, Shiitake mushrooms are found in many dishes. In particular, they are one of the ingredients in dashi, the broth which is the basis for many Japanese recipes.
Fans of vegan cooking will appreciate the way they stand up to cooking, making it an excellent replacement for animal proteins.
Chef's tip
Shiitake are very fragrant mushrooms, which reduce very little when cooked. That's why 50g per person is enough to transform a dish! A little salt and pepper and a knob of butter are enough to pep up your Shiitake. They don't need anything else because they are so fragrant!
Nutrition
Shiitake mushrooms have many virtues: they are a source of fibre and potassium.
| | |
| --- | --- |
| Energy (kj/kcal) | 149/36 |
| Fat (g) | 0.2 |
| of which saturated fat (g) | 0.03 |
| Carbohydrate (g) | 3.2 |
| of which sugar (g) | 0.7 |
| Dietary fibre (g) | 4.8 |
| Protein (g) | 2.9 |
| Salt (g) | 0.013 |
| Potassium (mg) | 344 |