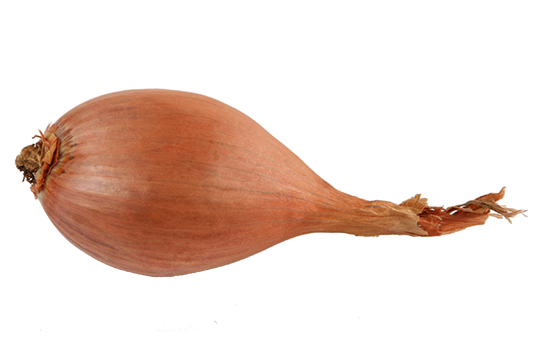 Did you know?
Traditional shallots have been cultivated in the same way in Brittany since the 17th century. It's a demonstration of historic know-how, with planting and harvesting done entirely by hand!
Planting a bulb (in February and March) provides a clump of 10 shallots (harvested in July), the common root of which breaks when harvesting, leaving a 'callous' on the base of each shallot.
This mode of production differentiates Traditional shallots from onions as the latter are grown from a sown seed. Just like onions, shallots are part of the Liliaceae family.
Traditional shallots are important from an agronomic point of view because of their rotation with other vegetables in the range. Treatments are limited thanks to the development of new disease-resistant varieties, created by and for Prince de Bretagne's market gardeners.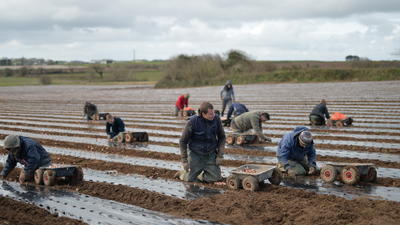 Cooking tips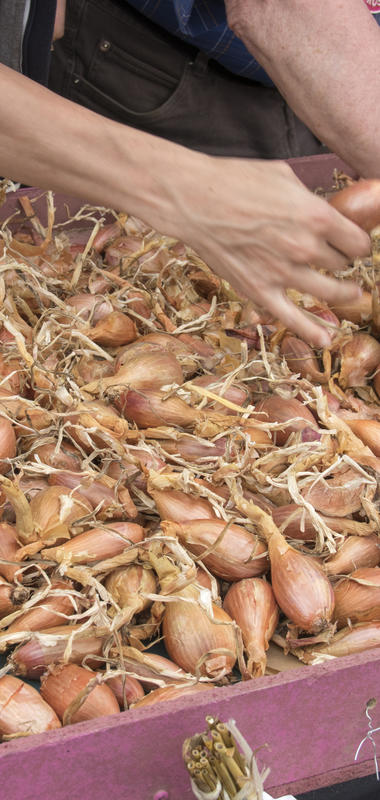 HOW TO CHOOSE TRADITIONAL SHALLOTS
Shallots should be coppery pink in colour, firm, shiny and dry. They can be recognised by the presence of a callous at their base (root scar). Shallots have so many taste qualities that people have sometimes tried to copy them. But our Traditional shallots have nothing to do with onions! To choose the right one, it's simple: only shallots obtained by vegetative propagation are entitled to the designation 'Traditional shallot': it is marked on the label, so you won't be mistaken.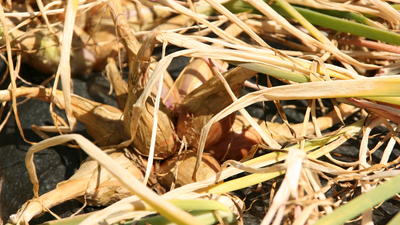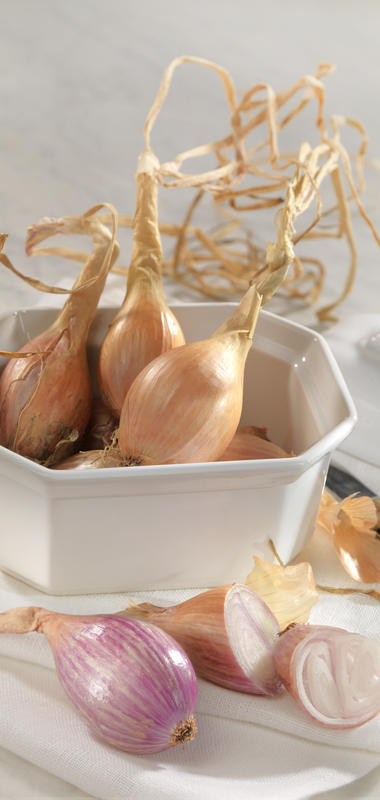 HOW TO PREPARE TRADITIONAL SHALLOTS
Cut the two ends of the bulb and the skin which envelopes the shallot can be removed more easily. To chop the shallot, cut it in two along its length, cut the root side and then thinly slice.
You can also simply cook them whole in their skins around a roasting chicken or vegetables.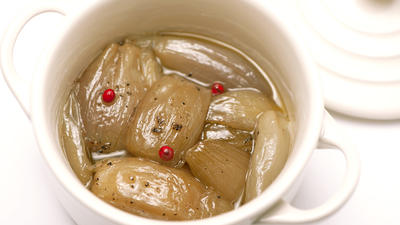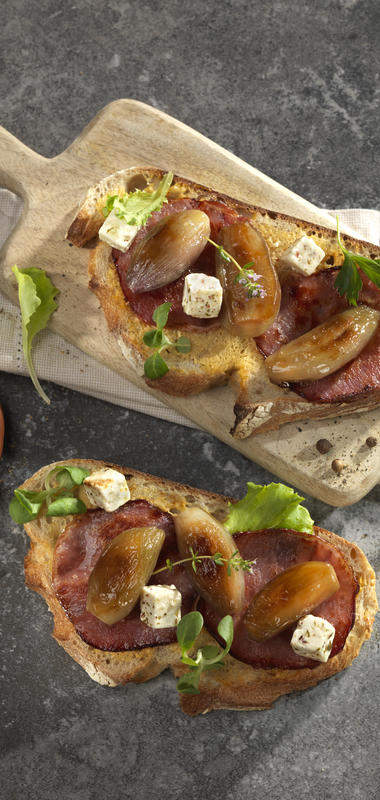 HOW TO COOK TRADITIONAL SHALLOTS
You can pan fry shallots or roast them in their skins:
10 mins
Pan fried (low heat)
Shallots can also be eaten raw, in salads for example.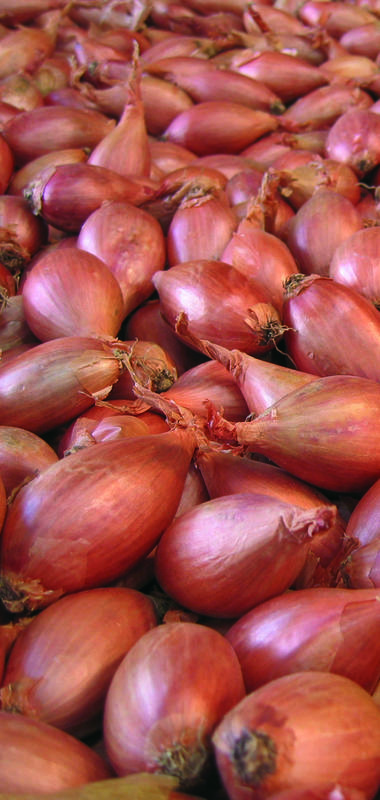 HOW TO STORE TRADITIONAL SHALLOTS
Store shallots in a dry, dark, cool and ventilated space. Well preserved, they can be kept for several months after harvest. This means you can stock up at the start of the season (July)! If you are not sure you can guarantee these conditions, buy them in small quantities as you go. But one thing is certain: you should always have Traditional shallots to hand!
If a shallot starts to sprout, don't throw it away: you can definitely still eat it!
Once peeled, shallots can be kept for several months in an airtight box in the fridge.
Cooking suggestions
Traditional shallots can be eaten raw, cooked or caramelised, in sauces, as a condiment, in vegetarian dishes or more classically with meat or fish. In fact, they can spice up all your starters and main courses!
Finely chopped, they add character to green salads, can be added to vinegar to accompany oysters or mixed with fromage frais, fleur de sel and herbs to make a sauce to serve with new potatoes.
Traditional shallots are also delicious in jams or chutneys. In their skins, they become soft and melting after spending an hour in the oven en papillote. They can also star in the centre of your dishes in tarts or as a shallot crumble etc. Traditional shallots are also central to many of the classic sauces in French gastronomy, including Bordeaux, béarnaise, white butter and gribiche. Sliced, Traditional shallots can accompany your fried vegetables or meats. You can also confit them or macerate them in pickles.
Cooking tips
To avoid crying when chopping shallots, use a sharp knife and run it under water regularly.
For the famous Bordeaux sauce, with whipped in butter, you can replace red wine with white, dry or sweet wine, even with cider. The result will always be great!
Innovation
Traditional shallots grown without pesticides¹
Committed for many years to the production of vegetables using ever more healthy and sustainable agricultural methods, Prince de Bretagne's producers offer a range of vegetables grown without synthetic pesticides.
¹No synthetic pesticides from leaf stage to plate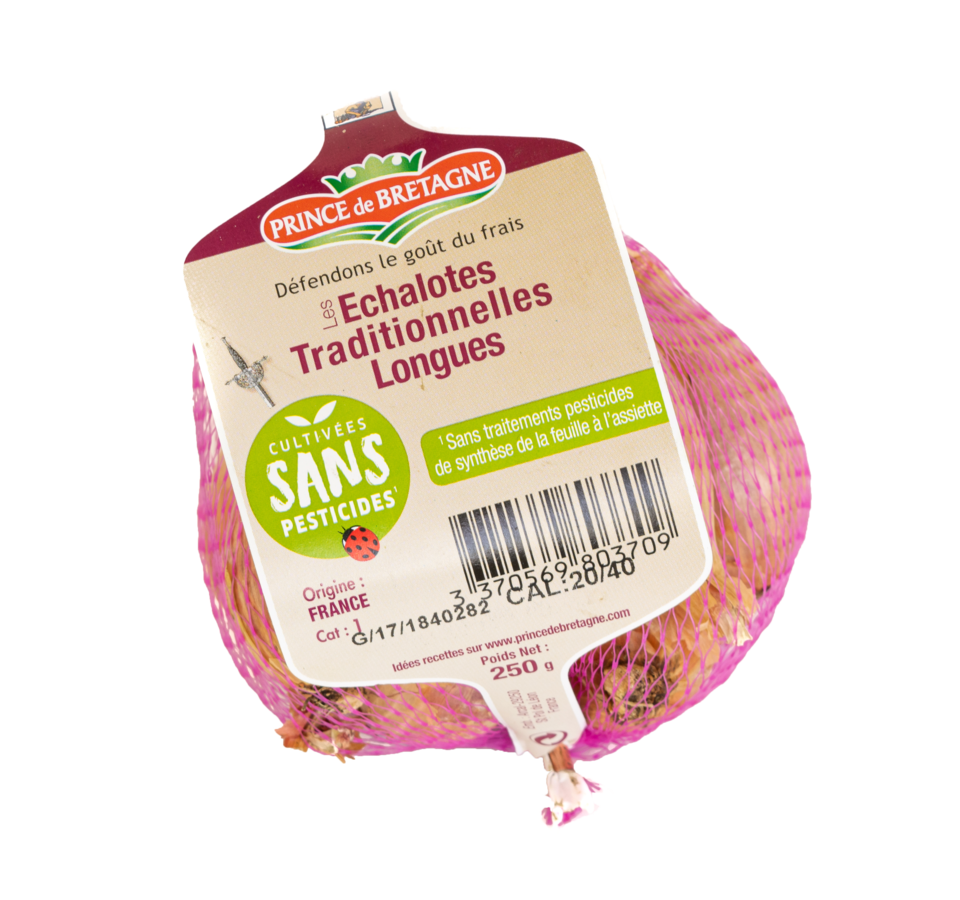 Nutrition
The health benefits of shallots are numerous. Raw, they are a source of potassium, folic acid and vitamin B6. Once cooked, shallots are high in vitamin B1 and a source of potassium.
| | |
| --- | --- |
| Energy (kj/kcal) | 246/59 |
| Fat (g) | 1.43 |
| of which saturated fat (g) | 0.23 |
| Carbohydrate (g) | 8.35 |
| of which sugar (g) | 3.63 |
| Dietary fibre (g) | 2.5 |
| Protein (g) | 1.84 |
| Salt (g) | 0.043 |
| Potassium (mg) | 334 |
| Vitamin B6 (mg) | 0.35 |
| Folic acid (B9 in µg) | 34 |
| | |
| --- | --- |
| Energy (kj/kcal) | 302/72 |
| Fat (g) | < 0.05 |
| of which saturated fat (g) | < 0.0002 |
| Carbohydrate (g) | 13.5 |
| of which sugar (g) | 6.3 |
| Dietary fibre (g) | 3.4 |
| Protein (g) | 2.13 |
| Salt (g) | 0.031 |
| Potassium (mg) | 400 |
| Vitamin B1 (mg) | 0.53 |