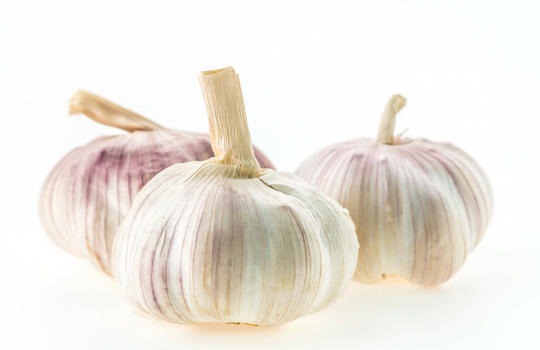 Did you know?
Garlic is a member of the Alliaceae family and part of the allium vegetables, allium being the Latin word for garlic. Originating in Central Asia, garlic has been cultivated and consumed for millennia around the world.
Brittany pink garlic is notable for the rose colour of its outer skin. It is one of the so-called 'hardneck' garlic, with a hard stem. It is renowned for its flavour, its delicate, sweet and fruity aroma and its good shelf life. Its cultivation and cleaning are carried out entirely by hand, thereby preserving its qualities as much as possible. Planted at the end of the year, it is harvested in summer before drying out. It can be kept for several months.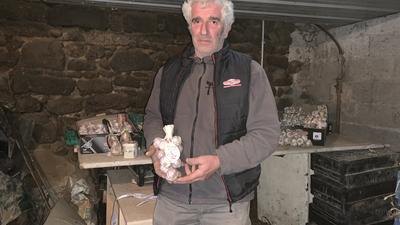 Cooking tips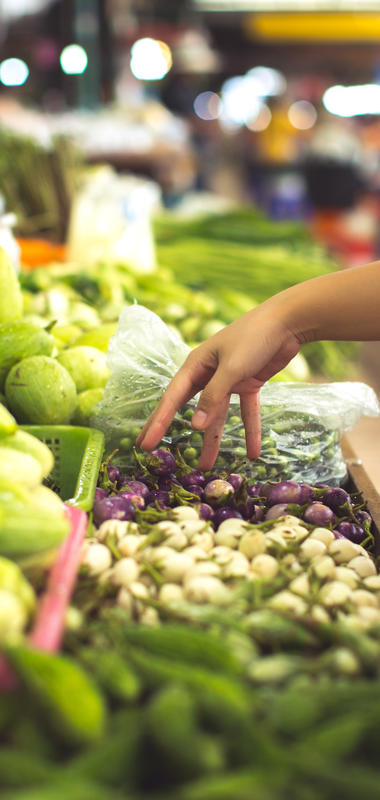 HOW TO CHOOSE BRITTANY PINK GARLIC
The head of garlic should be firm and sprout-free.
You can find Brittany pink garlic in plaits, loose, in sachets of 3 heads, and even in good-looking little punnets containing 200g of garlic cloves.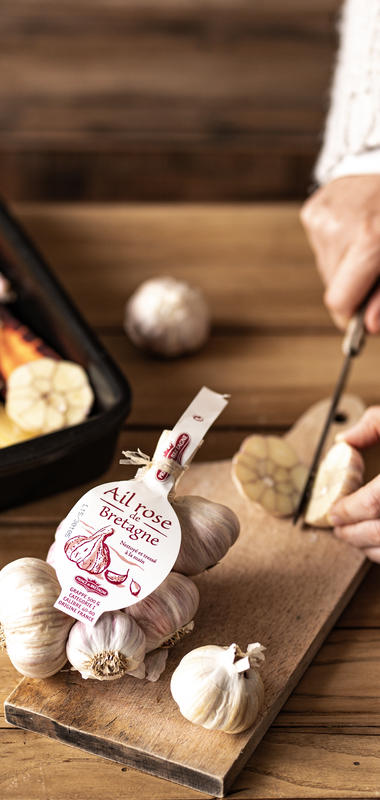 HOW TO PREPARE BRITTANY PINK GARLIC
Forget everything you know about garlic - this one is really different. Brittany pink garlic is exceptional, offering a sweet and fruity flavour as well as a pleasant texture. It is a condiment, of course, but also a real vegetable, a tasty marvel!
Remove the number of garlic cloves needed for your recipe. They are very easy to remove, just give them a quick pull. Raw or cooked, chopped, pounded or whole in their skins ('en chemise'), pink garlic is a flavour enhancer that should be used sparingly.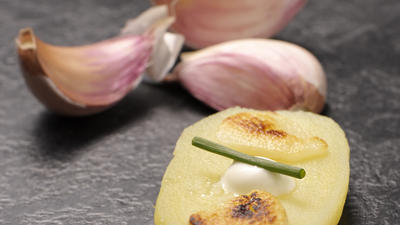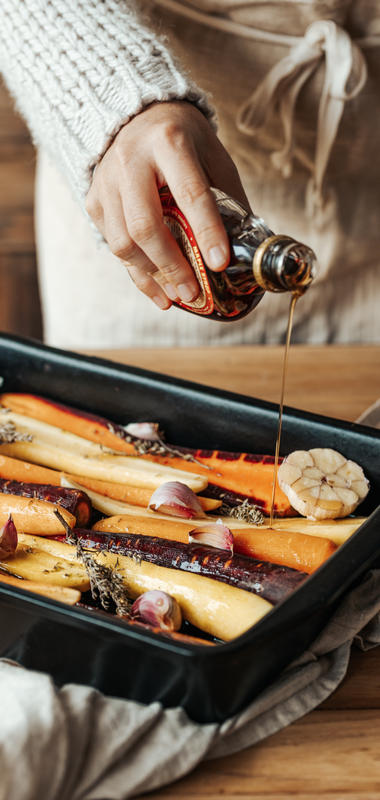 HOW TO COOK BRITTANY PINK GARLIC
Brittany pink garlic will surprise you with its sweet and fruity flavour. It is nothing like ordinary garlic, and pink garlic can be used both raw and cooked.
Some examples:
Finely grate a clove to season a vinaigrette or salad.
In a small saucepan, pour 5 tablespoons of olive oil and add a crushed garlic clove. Heat gently for a few minutes. You will obtain a delicately scented oil to season cooked or raw vegetables, fish etc..
Garlic can be cooked in the oven alone or with other vegetables, for this allow:
15 to 20 mins
In the oven
Garlic cloves can also be cooked in their skins: arrange the cloves in their skins with a little olive oil in a dish, bake for about 20 minutes at 220°C (430°F).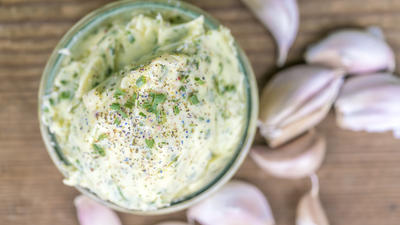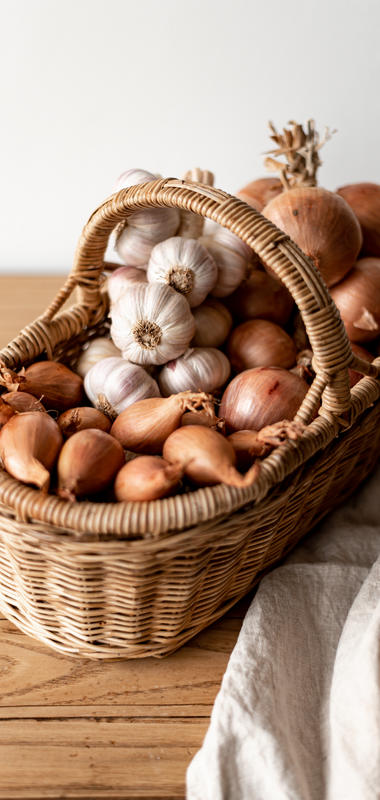 HOW TO STORE BRITTANY PINK GARLIC
Brittany pink garlic should be stored in a dry, cool, airy place, protected from light. It will keep for several months after harvest.
Creating garlic plaits is a natural, manual technique that improves the preservation of the heads and cloves of our Brittany pink garlic.
Cooking suggestions
Pressed into a sauce, Brittany pink garlic will enhance your dish.
Brittany pink garlic pairs very well with meats so garnish or spike the meat with garlic.
Cut into very small slivers, it will go perfectly with all your pan-fried seasonal vegetable dishes!
Chef's tip
To remove the skin from garlic, cover your hand with a tea towel and place the garlic under the blade of a knife and lightly punch down on the knife with your fist.
Nutrition
Garlic has many virtues: it is rich in copper, manganese and vitamin B6. It is also a source of fibre, vitamin C, phosphorus, potassium, vitamin B1 and folic acid (vitamin B9).
| | |
| --- | --- |
| Energy (kj/kcal) | 509/120 |
| Fat (g) | 0.34 |
| of which saturated fat (g) | 0.075 |
| Carbohydrate (g) | 21.2 |
| of which sugar (g) | 1.43 |
| Dietary Fibre Fibres (g) | 4.7 |
| Protein (g) | 5.81 |
| Salt (g) | 0.098 |
| Copper (mg) | 0.3 |
| Manganese (mg) | 1.67 |
| Phosphorus (mg) | 157 |
| Potassium (mg) | 401 |
| Vitamin B1 (mg) | 0.2 |
| Vitamin B6 (mg) | 1.99 |
| Folic acid (B9 in µg) | 51.3 |
| Vitamin C (mg) | 18.1 |