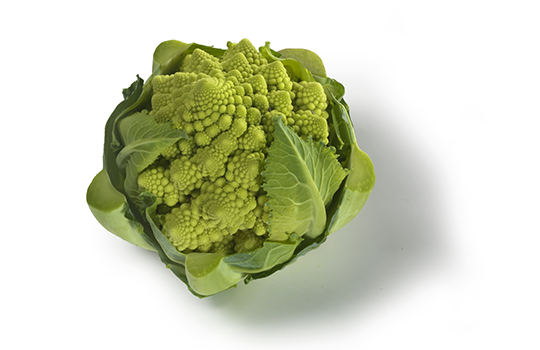 Did you know?
An ancestor of cauliflower and a cousin of broccoli, mini-Romanesco get their name from their original production area in the Rome region. The first Romanescos appeared in Brittany in the early 1990s.
You can't help but notice that the head of this brassica is atypical: each part of this brassica, from the largest to the smallest, looks the same, endlessly! This 'fractal' vegetable (a mathematical expression for a shape that repeats itself endlessly, like snowflakes) adds a nice decorative touch to your plates.
Entirely harvested by hand using a knife, mini-Romanesco are packed inside a trailer in the field ready to be delivered. Packing in the field is a guarantee of optimal freshness on your plate!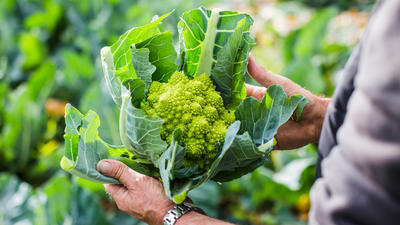 Cooking tips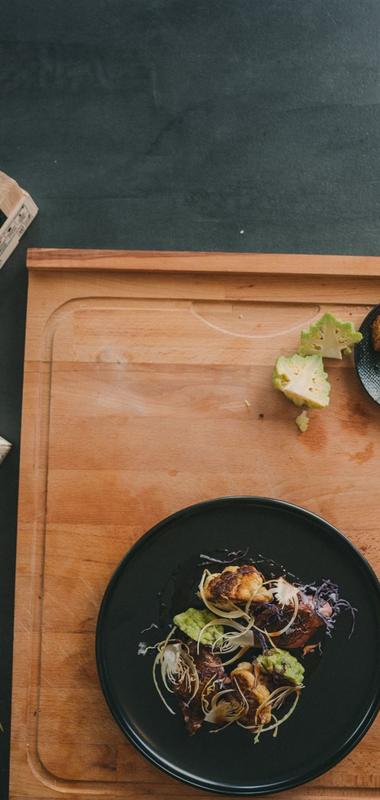 HOW TO CHOOSE MINI-ROMANESCO
Choose Romanesco that have very tight heads. The Romanesco should be firm, very green and free of black or brown blemishes. The appearance of the leaves surrounding the head are a good indicator of freshness.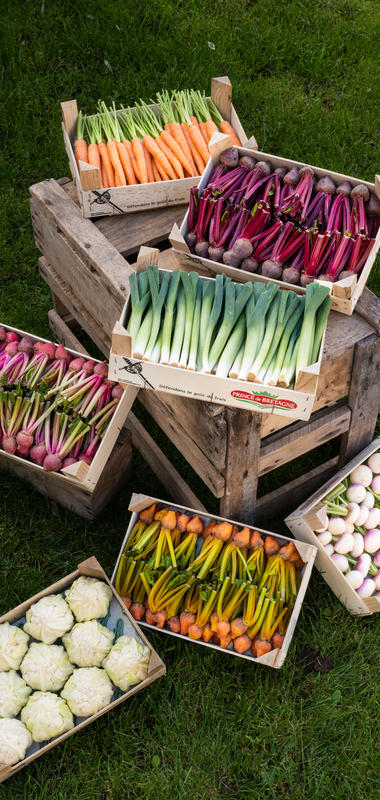 HOW TO PREPARE MINI-ROMANESCO
Start by removing the leaves and wash your mini-Romanesco. Remove only the larger leaves and keep the smaller ones, which are very young and tender and will be nice and crisp.
Our mini-Romanescos can be eaten raw, for example cut into quarters for an aperitif. Cooked, mini-Romanesco cabbages will look great on your plates, as in this tournedos and mini-brassica recipe.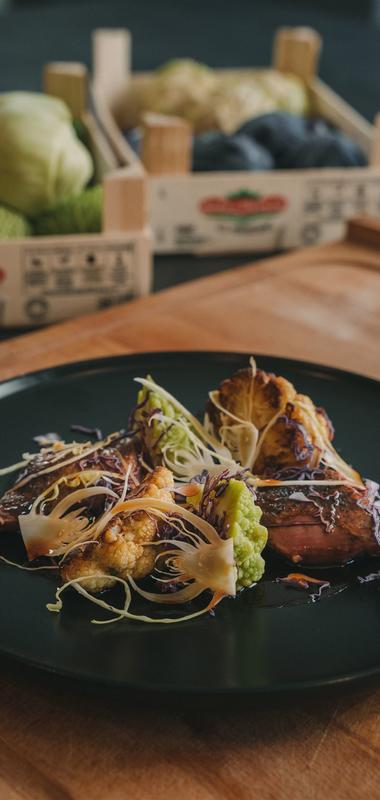 HOW TO COOK MINI-ROMANESCO
Mini-Romanesco can be cooked in several ways:
8 to 12 mins
Steam cooking
6 to 10 mins
In boiling water
7 to 12 mins
In the microwave (for 250g of florets) with water
You can also enjoy Romanesco 'half-cooked': blanch it for 2 to 3 minutes in salted boiling water then cook it in a pan or wok. Brown it with a little butter or olive oil and chopped Brittany pink garlic and Traditional shallots.
Romanesco can also be eaten raw: with a yogurt and herb or curry sauce. You can also eat it cooked, but cold, in salads for example.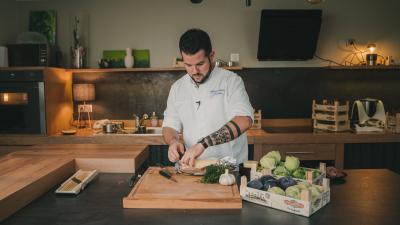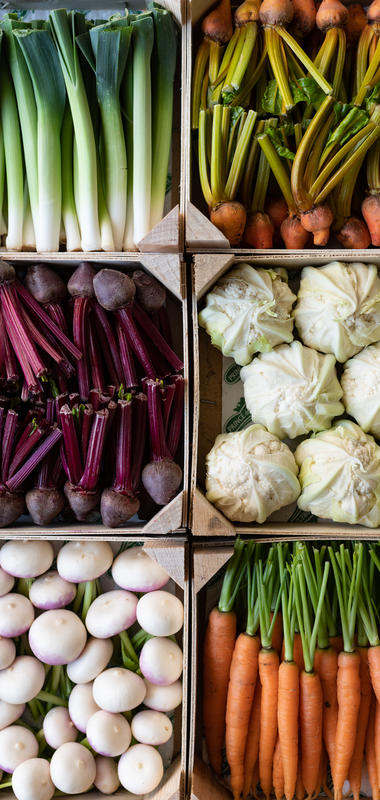 HOW TO STORE MINI-ROMANESCO
Mini-Romanesco will keep for 2 or 3 days in the salad drawer of your fridge. It will keep even better if you first wash it, divide into florets and put it in an airtight container.
It can also be frozen (blanch it first).
Cooking suggestions
Mini-Romanesco can be eaten raw or cooked. Raw, it is good in salads and with dips. It can be cooked in multiple ways: steamed, mashed, pan or wok-fried, in quiches and tarts, in gratins and soups etc.
Its taste is less bitter, sweeter and finer than that of cauliflower. It has a slight nutty taste and pairs well with other brassicas, meat such as bacon, fish etc.  .
Chef's tip
You can also prepare it as a couscous (by grating it) and use it in tabbouleh, tagines etc.
Nutrition
| | |
| --- | --- |
| Energy (kj/kcal) | 177/42 |
| Fat (g) | 0.2 |
| of which saturated fat (g) | 0.05 |
| Carbohydrate (g) | 4.3 |
| of which sugar (g) | 3.1 |
| Dietary fibre (g) | 3.3 |
| Protein (g) | 4.1 |
| Salt (g) | 0.01 |
| Potassium (mg) | 371 |
| Folic acid (B9 in µg) | 36 |
| Vitamin K (µg) | 20 |
| Vitamin C (mg) | 82 |
| Vitamin B6 (mg) | 0.22 |
| | |
| --- | --- |
| Energy (kj/kcal) | 177/42 |
| Fat (g) | 0.2 |
| of which saturated fat (g) |   |
| Carbohydrate (g) | 4,4 |
| of which sugar (g) | 2.7 |
| Dietary fibre (g) | 3.1 |
| Protein (g) | 4.1 |
| Salt (g) | 0.01 |
| Potassium (mg) | 405 |
| Folic acid (B9 in µg) | 120 |
| Vitamin C (mg) | 65 |