Mini-coloured cauliflower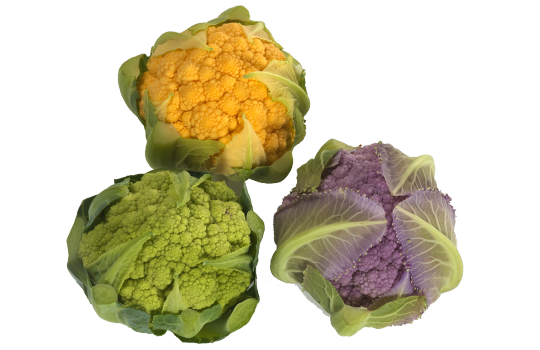 Did you know?
For ages, cauliflowers were naturally colourful. Today we usually think of cauliflower as white but this is the result of successive crosses that have produced our current white varieties. Older varieties of cauliflower naturally showed a great diversity of colours and it is these varieties which, brought up to date, are grown by Prince de Bretagne's market gardeners.
Colour pigments are naturally created by the plants:
The orange pigment comes from carotene, which is found in carrots, and is a precursor of vitamin A.
The purple pigment is from the powerful antioxidant anthocyanin family.
And finally, green cauliflower owes its colour to the presence of chlorophyll which makes it sweet!
Entirely harvested by hand using a knife, mini-cauliflowers are packed directly by our market gardeners.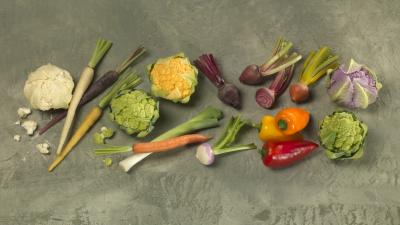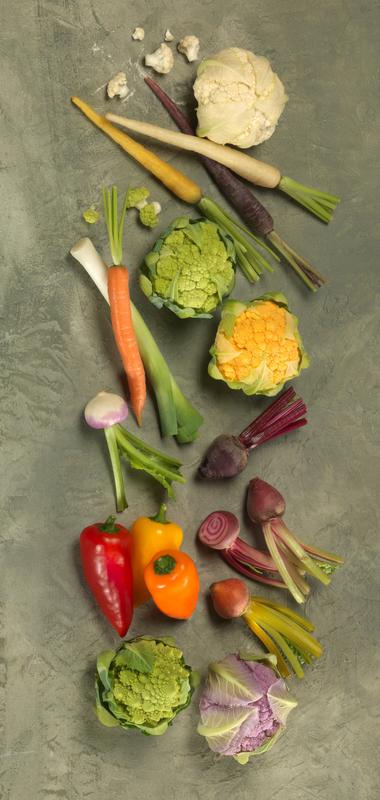 HOW TO CHOOSE MINI-COLOURED CAULIFLOWERS
The head of the cauliflower should be bright and uniform in colour. It should be very firm and the look of the leaves surrounding it provide a sign of its freshness.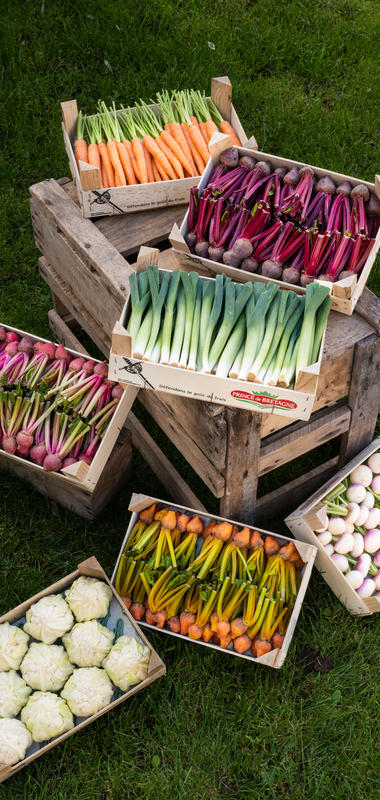 HOW TO PREPARE MINI-COLOURED CAULIFLOWERS
They are prepared like mini-white cauliflowers. Start by removing the outer leaves and wash your coloured mini-cauliflowers. The more tender leaves can be eaten.
Then everything depends on your recipe! You can eat them raw as an aperitif or cook them whole to maintain the beauty of these colourful mini-cauliflowers.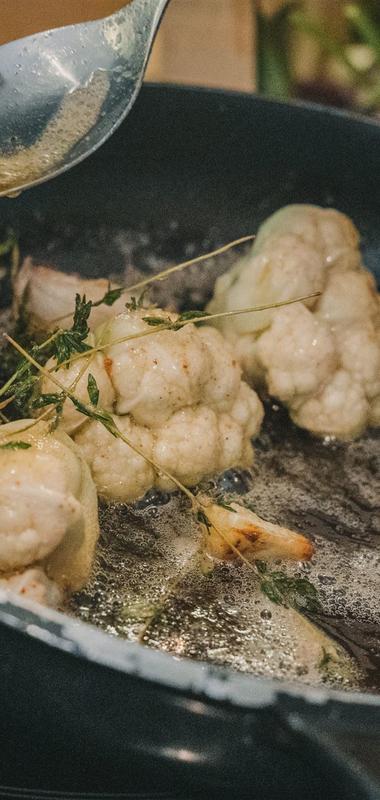 HOW TO COOK MINI-COLOURED CAULIFLOWERS
Mini-coloured cauliflowers are cauliflower varieties with a slightly milder and sweeter taste than mini-white cauliflower. Mini-coloured cauliflowers can be eaten raw or cooked, for the latter allow:
7 to 8 mins
In boiling water
3 to 5 mins
Steam cooking
10 to 15 mins
Stir-fried in a wok
40 mins (175°C/350°F)
In the oven
You can also eat them 'half-cooked': blanch for 2 to 3 minutes in salted boiling water and then fry in a pan or wok. Brown them with a little butter or olive oil along with Brittany pink garlic and chopped Traditional shallots.
They can also be eaten raw, served with a yogurt and herb or curry sauce.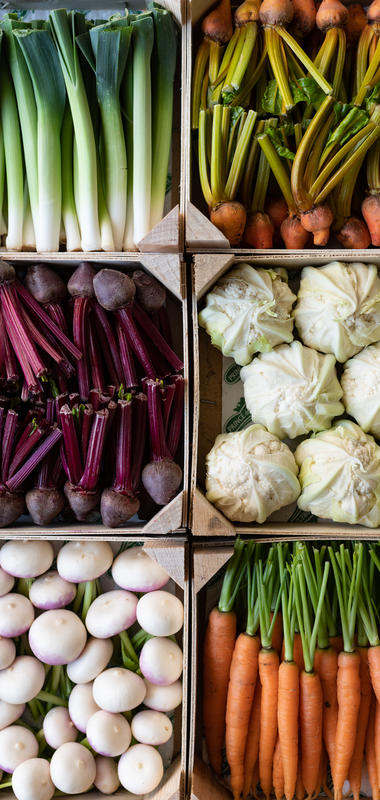 HOW TO STORE MINI-COLOURED CAULIFLOWER
Mini-cauliflowers will keep for 2 or 3 days in the salad drawer of the fridge. Ideally, enjoy them directly after purchase.
Cooking suggestions
Mini-coloured cauliflowers are just as good for an aperitif (in dips) as a starter or a main course! These mini-coloured cauliflowers will really liven up plates.
Chef's tip
Here are some simple tips for maintaining the beautiful colour of these mini-cauliflowers:
Avoid submerging them in water. They are better steamed or fried. Steaming will very slightly discolour the cauliflower (tip: stop the cooking by immersing the florets in iced water). Sautéed, cauliflowers will  retain their original colour, though will brown a little.
To be 100% sure of retaining the colour: eat them raw!
Nutrition
All three types of mini-coloured cauliflower (orange, green and purple) are high in vitamin C. Mini-green cauliflowers are also a source of potassium, vitamin K and vitamin B9 (folic acid).
| | |
| --- | --- |
| Energy (kj/kcal) | 76/18 |
| Fat (g) | <0.2 |
| Carbohydrate (g) | 1.1 |
| of which sugar (g) | 1.1 |
| Dietary fibre (g) | 1.9 |
| Protein (g) | 2.5 |
| Salt (g) | 0.02 |
| Vitamin C (mg) | 27.5 |
| | |
| --- | --- |
| Energy (kj/kcal) | 114/27 |
| Fat (g) | <0.2 |
| Carbohydrate (g) | 3 |
| of which sugar (g) | 3 |
| Dietary fibre (g) | 2.5 |
| Salt (g) | 0.02 |
| Vitamin C (mg) | 44.9 |
| Folic acid (B9 in µg) | 57 |
| Vitamin K (µg) | 20.2 |
| Potassium (mg) | 300 |
| | |
| --- | --- |
| Energy (kj/kcal) | 90/21 |
| Fat (g) | <0.2 |
| Carbohydrate (g) | 1.6 |
| of which sugar (g) | 1.6 |
| Dietary fibre (g) | 2.1 |
| Protein (g) | 2.7 |
| Salt (g) | 0.02 |
| Vitamin C (mg) | 36.5 |