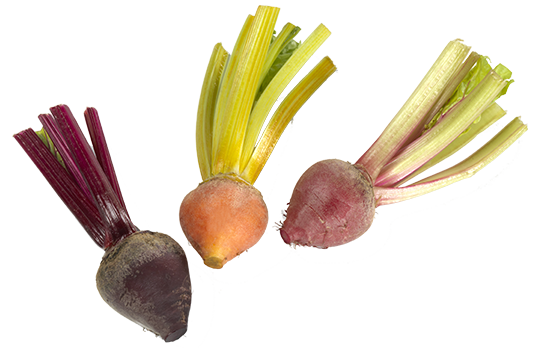 Did you know?
Beets are part of the Chenopodiaceae family. The French name for beetroot is betterave, a name derived from 'bette' (chard, a plant from which beets are directly derived) and 'rave' ('root', a plant that is grown for its roots). Originally from the Mediterranean, it was not until the middle of the 19th century that beets became popular and seeds of improved varieties were introduced.
You can find different varieties of mini-beets in Prince de Bretagne's mini-vegetable range:
- Chioggia beet: Round, sweet pink flesh veined with white.
- Red beetroot: Thick red flesh, the traditional beetroot we all know but a mini version!
- Golden beet: Golden yellow flesh, milder flavour.
Mini-beets are like little sweets! Prince de Bretagne's mini-vegetables are the stars of festive dining tables. Easy to use and big on impact!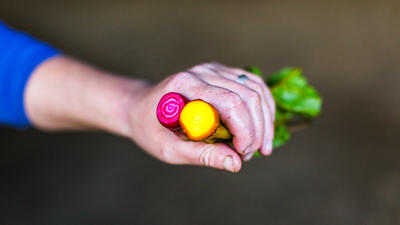 Cooking tips
To check mini-coloured beets are cooked correctly don't do as you would with potatoes and stick the tip of a knife in them. This will cause them to lose their juice. Instead, rub the skin around the stalk - it should come off easily.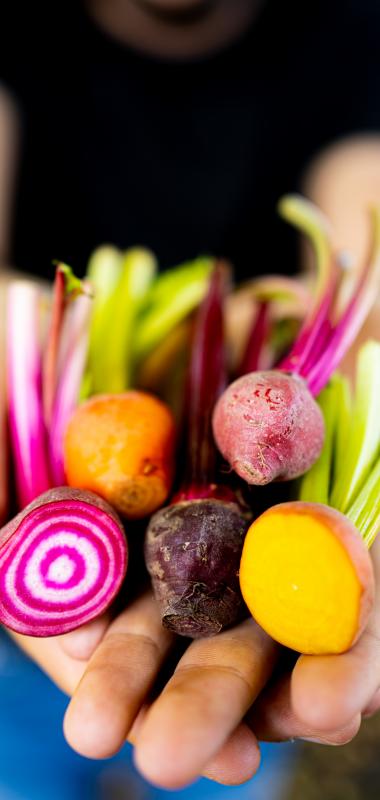 HOW TO CHOOSE MINI-COLOURED BEET
Choose firm beets with a skin that is not too dry. If they have leaves that's even better. Cooked, their skin should be smooth, with no black spots or cracks.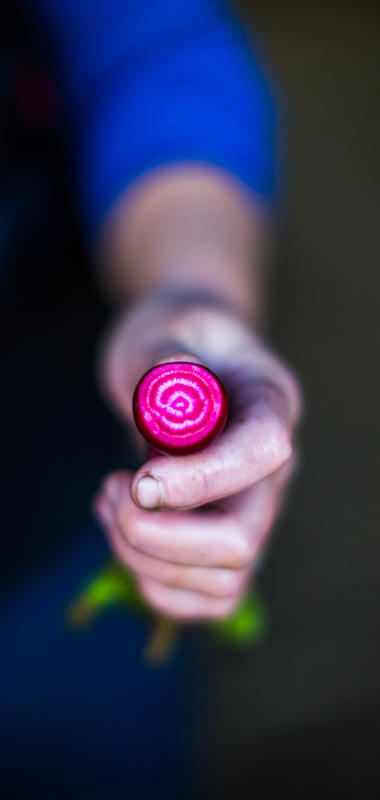 HOW TO PREPARE MINI-COLOURED BEET
After carefully peeling them, you can cut them into very thin slices with a good knife (a mandolin is even better) and serve them raw. If you must cook them, leave them as they are so they can retain their beautiful colours. Rinse them under the tap, pat them dry and keep a small part of the stalks attached. Cooking them unpeeled is easier but there's a knack to it. The trick is to cook them upright in a saucepan with water up to the neck of the beets. This means the stalks will be preserved for a perfect presentation.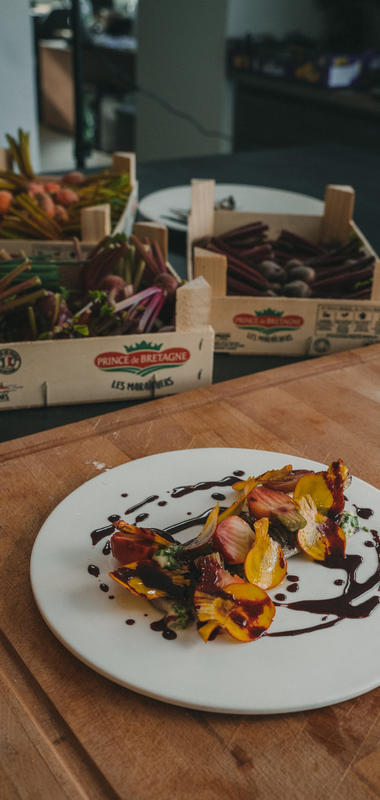 HOW TO COOK MINI-COLOURED BEET
5 to 10 mins
In boiling water
The ideal way to cook mini-beet:
Arrange the mini-beets upright in a small saucepan.
Add water until the bulbs are just covered.
Cook for 5 to 10 minutes in simmering water.
The tops will remain firm, colourful and crunchy and your beets will look great.
Tip: you can use a potato to wedge your mini-beets in place during cooking.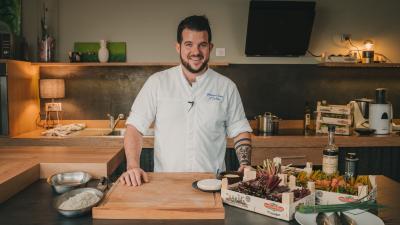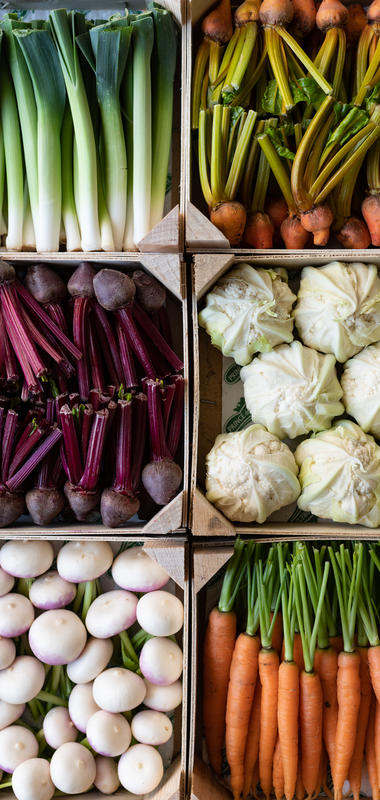 HOW TO STORE MINI-COLOURED BEET
Placed in an airtight container, they can be stored for three or four days in the salad drawer of the fridge. Cut into slices, they can be frozen and kept for several months.
Cooking suggestions
Mini-coloured beet can be eaten hot or cold, raw or cooked. Mini-beets are an ideal choice in many salads. Freshly placed on a bed of lamb's lettuce with walnuts and drizzled with a walnut oil vinaigrette, delicious!
Chef's tip
If you want to give your pasta or rice a nice colour, slip a small piece of coloured beet into the cooking water. A surprise every time!