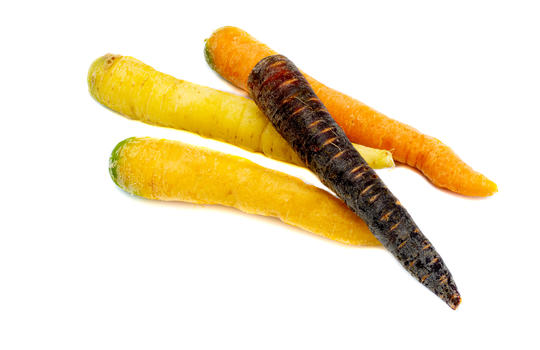 Did you know?
Carrots are part of the Apiaceae (Umbellifera) family. They were discovered 5,000 years ago and have been cultivated in Europe since the 18th century. Carrots have not always been orange. Indeed, the first arrivals on our tables were purple and white. Orange carrots were produced by humans crossing varieties with red and white flesh.
Purple, yellow, white, violet, these carrots from traditional varieties are now being cultivated again:
Yellow carrots: their skin and flesh are yellow and they have a particularly sweet taste.
Purple carrots: their skin is dark purple and their flesh is a marbled orange and purple.
White carrots: their skin and flesh are white.
These colourful carrots cook faster than traditional orange carrots.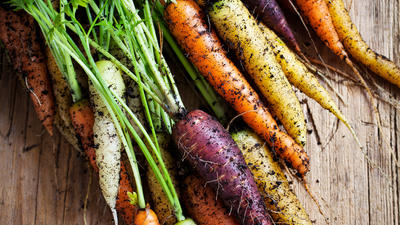 Cooking tips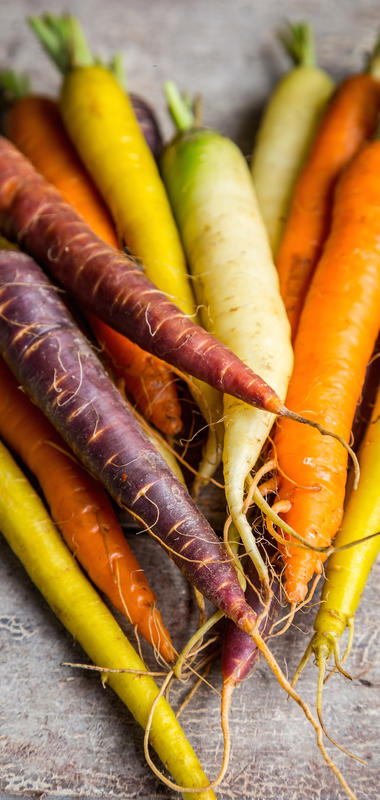 HOW TO CHOOSE COLOURED CARROTS
They should be very firm with beautiful, pronounced colours. Intense colour and shine are indicators of the freshness of carrots.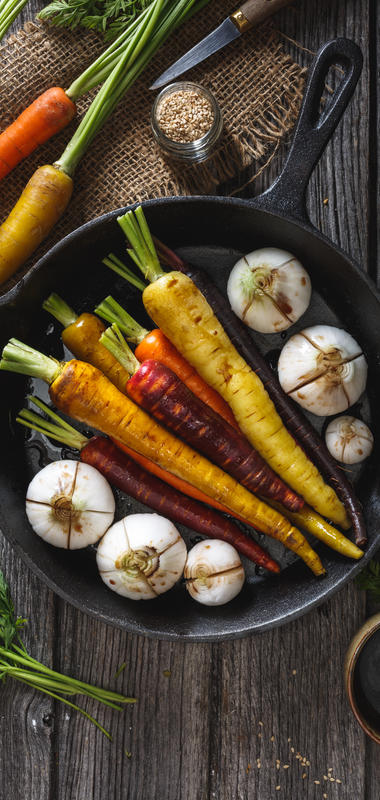 HOW TO PREPARE COLOURED CARROTS
Start by peeling the carrots with a peeler, then rinse them with clean water. You can also brush them and eat coloured carrots with their skins.
Carrots can be cooked whole or chopped according to your recipe: slices, tagliatelle, julienne or brunoise. They can also be roasted or cooked whole.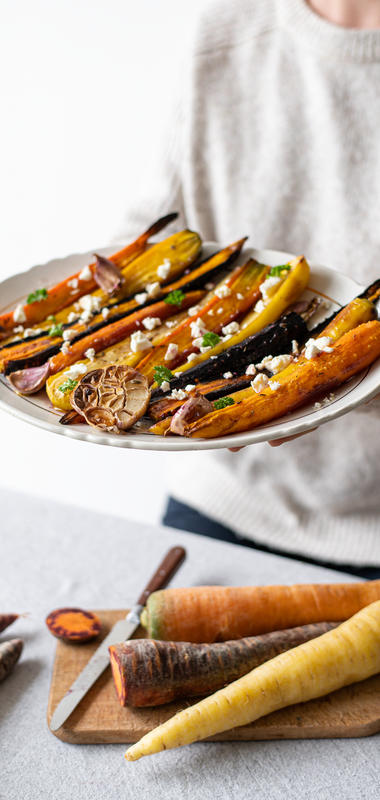 HOW TO COOK COLOURED CARROTS
Carrots can be eaten raw and cooked:
20 to 30 mins
Braised with the lid on the pan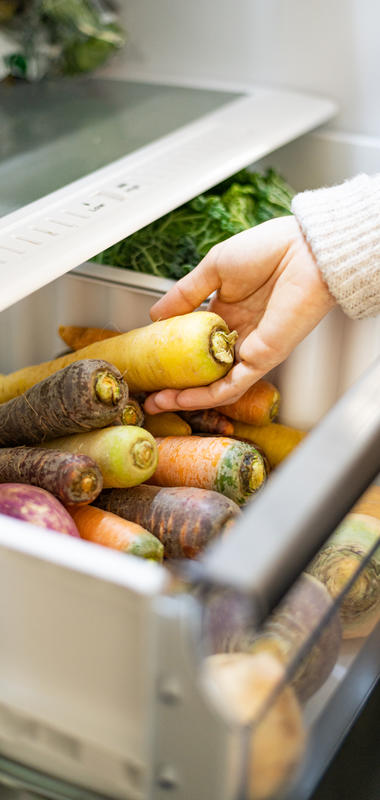 HOW TO STORE COLOURED CARROTS
Carrots can be stored for up to a week in the refrigerator. Once washed, they don't keep for long.
Cooking suggestions
Play with the different colours these carrots offer in your dishes. It is best to use them raw to maximise the impact of their beautiful colours! For an aperitif, cut into sticks and offer them with a variety of sauces.
Coloured carrots pair very well with lemon, orange or even spices. They can be cooked just like orange carrots and can be eaten as a dessert in a cake or as a main course in pies, soups and purees.
Chef's tip
To maintain the colour of these carrots, soak the vegetables in plenty of very cold water before draining them. Add ice cubes to the water if necessary. Cold water fixes the colour.
Nutrition
The health benefits of carrots are numerous. They are a source of potassium, folic acid and vitamin K, and also provide pro-vitamin A.
| | |
| --- | --- |
| Energy (kj/kcal) | 154/37 |
| Fat (g) | 0.26 |
| of which saturated fat (g) | 0.054 |
| Carbohydrate (g) | 6.45 |
| of which sugar (g) | 5.42 |
| Dietary fibre (g) | 2.7 |
| Protein (g) | 0.77 |
| Salt (g) | 0.098 |
| Potassium (mg) | 301 |
| Vitamin A equivalent (mg) | 1382 |
| Folic acid (B9 in µg) | 32.3 |
| Vitamin K (µg) | 13.8 |
| | |
| --- | --- |
| Energy (kj/kcal) | 80/19 |
| Fat (g) | 0.1 |
| of which saturated fat (g) | 0.019 |
| Carbohydrate (g) | 2.6 |
| of which sugar (g) | 2.51 |
| Dietary fibre (g) | 2.8 |
| Protein (g) | 0.55 |
| Salt (g) | 0.051 |
| Vitamin A equivalent (mg) | 557 |
| Vitamin K (µg) | 13.7 |