Cherry tomatoes on the vine
1 bunch = 200-250 g
Weight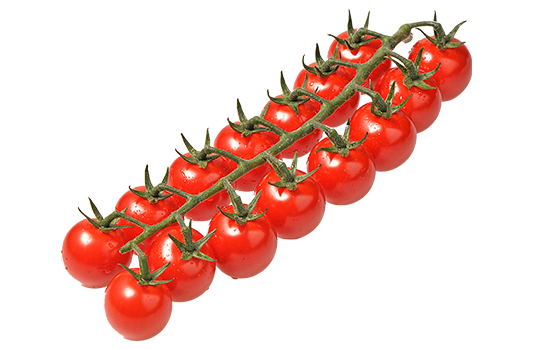 Did you know?
Tomatoes arrived in France in the 16th century after their discovery in South America. Tomatoes are an annual plant which produce fruit throughout the season.
Our tomatoes are grown as a protected crop. This approach protects the plants from poor weather and pests, making it possible to reduce the use of synthetic pesticides. Prince de Bretagne's market gardeners have all used beneficial insects to naturally pollinate and protect their tomato plants for several decades. They are committed to producing tomatoes using healthier and more sustainable agricultural approaches (harvesting of rainwater, recycling of water and crop waste etc.). Soil-grown organic tomatoes are available from May.
Prince de Bretagne's producers harvest tomatoes every day by hand. You can find boxes of 100% red Prince de Bretagne cherry vine tomatoes or a trio of red, yellow and orange cherry vine tomatoes. Round yellow cherries have an intense straw-yellow colour and are very sweet and tasty. Snack on them like sweets!
Almost 80% of tomato packaging is already made of wood and cardboard from sustainably managed forests. Most cherry vine tomatoes are sold loose. There is a gradual shift from plastic to cardboard trays for packaged tomatoes.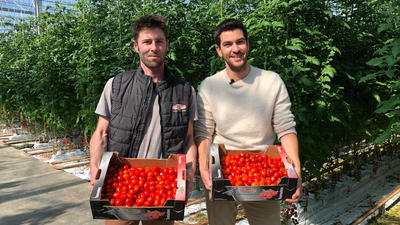 Cooking tips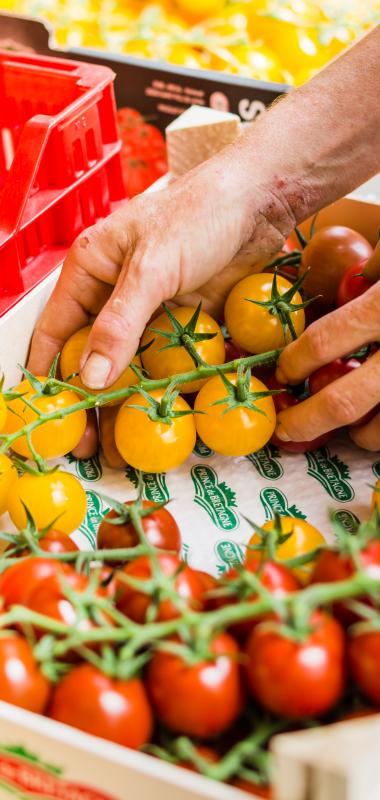 HOW TO CHOOSE CHERRY TOMATOES ON THE VINE
Cherry tomatoes on the vine comprise beautifully coloured small round cherry-shaped fruits presented on the vine. Seek out firm and well-coloured fruits. Also examine the freshness of the vine and stalks.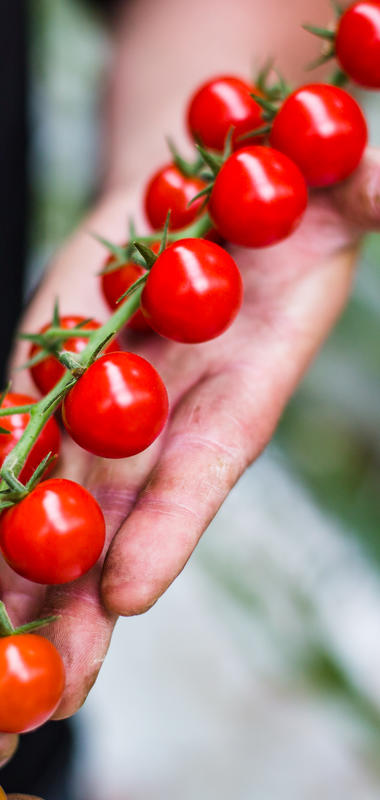 HOW TO PREPARE CHERRY TOMATOES ON THE VINE
Wash cherry tomatoes in water and dry them. Wash tomatoes at the last moment, just before cooking or eating them as they will keep better and retain all their flavour.
This is a really tasty variety that can be eaten whole or sliced. Cut vertically rather than horizontally, as the tomatoes will keep their shape and flavour better in salads.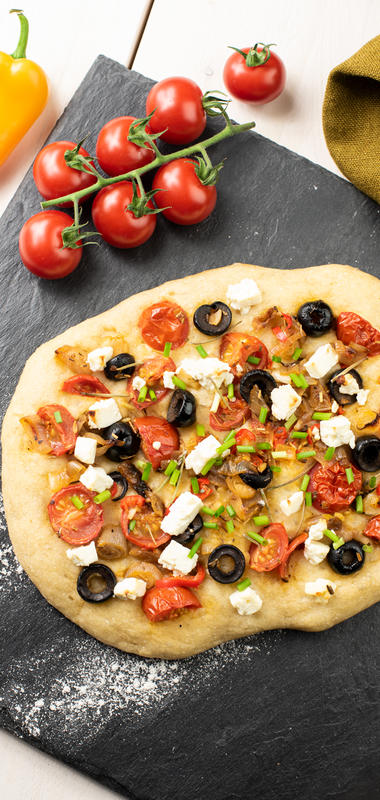 HOW TO COOK CHERRY TOMATOES ON THE VINE
Because of their small size, cherry tomatoes cook very quickly, whether left on the vine or not.
Add a spoonful of olive oil to a pan along with a handful of cherry tomatoes, nothing could be simpler.
A few minutes of cooking over a medium heat will provide tomatoes that retain some of their crunch or put a lid on the pan and cook for a few more minutes for more tender tomatoes.
To oven bake, preheat the oven to 200°C (400°F). Arrange the cherry tomatoes in a baking dish and baste them with a drizzle of olive oil. Add salt, pepper, herbs or spices. Place the dish in the oven and cook the tomatoes for 8 to 10 minutes.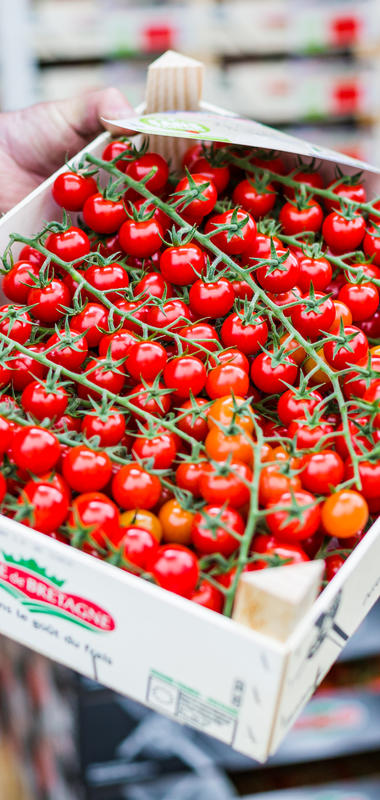 HOW TO STORE CHERRY TOMATOES ON THE VINE
The taste of tomatoes is first linked to the variety grown and then to their storage: to preserve their fragrance and taste, tomatoes must be stored at room temperature and not in the fridge.
Cherry vine tomatoes can be kept at room temperature for three to four days in a fruit bowl or similar.
Leave the vines and stems attached because this guarantees their freshness. In addition, they continue to draw sap from them, even after harvest.
You should also avoid keeping them near a heat source as this softens their flesh.
Cooking suggestions
Our cherry tomatoes on the vine are really tasty, sweet-tasting fruits just waiting to be tasted! They are good just as they are, eaten plain, or served as an aperitif or in a salad, but can also be incorporated into cooked dishes (in quiches, clafoutis, roasted etc.).
Their natural and aesthetic presentation always creates a sensation during festive meals!
They are perfect for children because they are great for all occasions: snacks, picnics, aperitifs etc. Like sweets but healthy!
Chef's tip
Tomatoes are not a vegetable but a fruit. They can therefore accompany both savoury and sweet dishes!
Nutrition
Cherry tomatoes on the vine are a source of vitamin C. Make the most of them!
| | |
| --- | --- |
| Energy (kj/kcal) | 77/19 |
| Fat (g) | 0.29 |
| of which saturated fat (g) | 0.05 |
| Carbohydrate (g) | 1.99 |
| of which sugar (g) | 1.99 |
| Dietary fibre Fibres (g) | 1.27 |
| Protein (g) | 1.07 |
| Salt (g) | 0.28 |
| Vitamin C (mg) | 15.5 |