Packed
by our market gardeners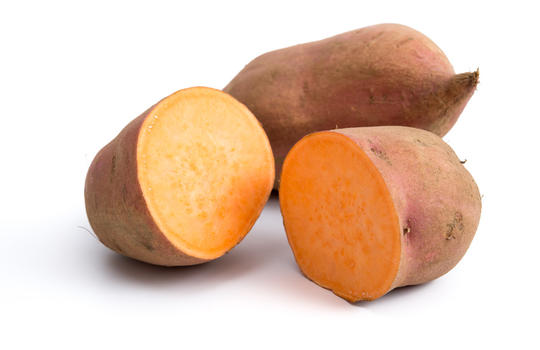 Did you know?
A tuber in the bindweed family and native to South America, sweet potatoes are usually grown in tropical regions but also in Brittany! It's a crop suited to the region because it does not like the cold and the gulf stream of Brittany's northern coast provides a temperate climate. It also needs water so the rainy Breton climate is therefore ideal!
Grown in open fields, sweet potatoes are harvested by hand by Prince de Bretagne's market gardeners. It is a vigorous plant with trailing vegetation. Tubers form on the roots towards the end of the cropping cycle.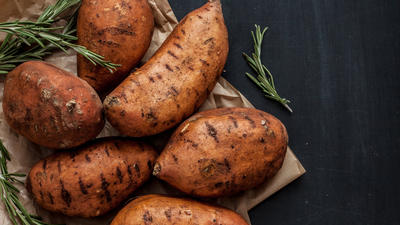 Cooking tips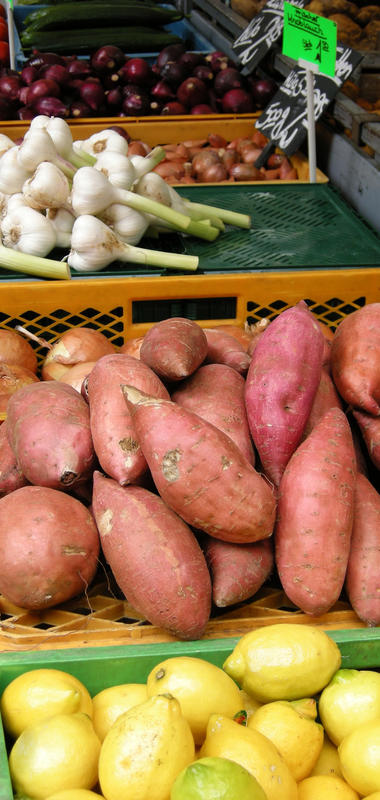 HOW TO CHOOSE SWEET POTATOES
Sweet potatoes are not a particularly fragile vegetable and you can select it with confidence following a few details:
Take a sweet potato in your hand, it should be firm and heavy. The skin is naturally scarred but be careful that it isn't stained or clearly damaged.
On the nose, no striking smell should disturb you.
Not too quirky in shape. This does not change the flavour, but it will be easier to remove the skin with a potato peeler.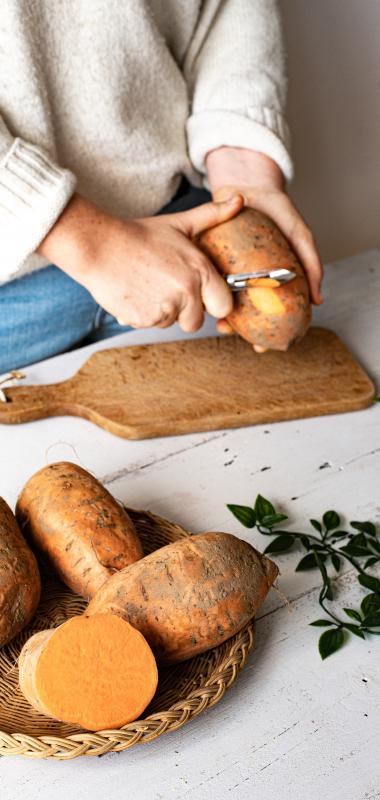 HOW TO PREPARE SWEET POTATOES
In general sweet potatoes are eaten peeled. Arm yourself with a potato peeler and plenty of elbow grease!
They can be baked whole in the oven after brushing and rinsing.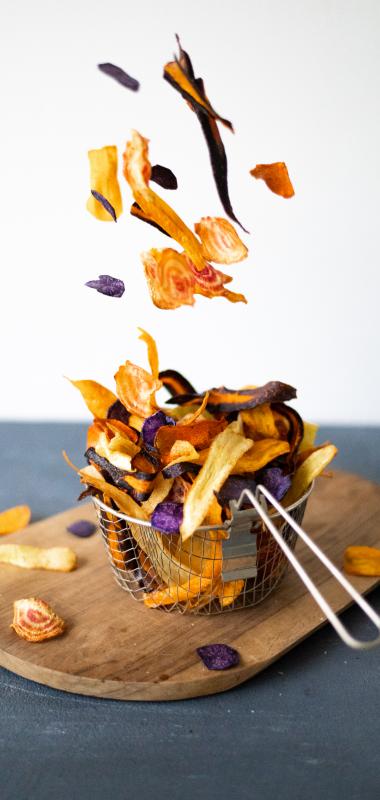 HOW TO COOK SWEET POTATOES
If you know how to cook potatoes, you should be fine with sweet potatoes as they are cooked in a similar fashion.
Several cooking options are possible:
In the oven, bake for 45 to 50 minutes at 180°C (350°F)

Steamed

In boiling water for 15 to 20 minutes. As with potatoes, drop the sweet potatoes in cold water before turning on the heat. Stick the tip of a knife into the sweet potatoes to check if they are cooked.

Pan-fried

In the deep fryer. Their large size allows you to make delicious, good-looking crisps to decorate a plate.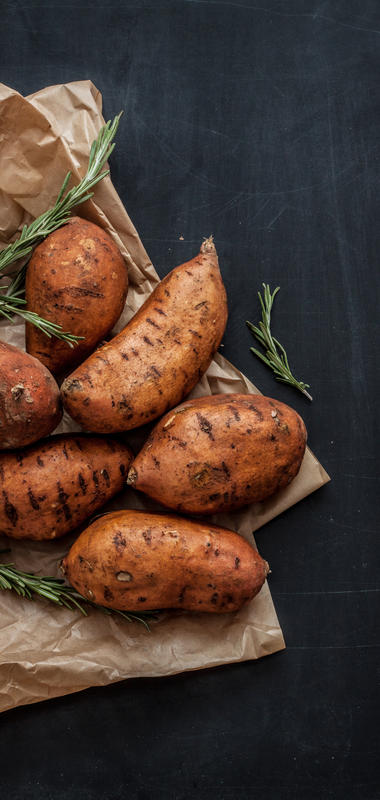 HOW TO STORE SWEET POTATOES
Similar to potatoes, choose a dry, cool and well-ventilated place to avoid germination. They keep best in a paper bag or sack. Avoid the fridge as this can damage them and harden their cores.
Be careful, though, as sweet potatoes keep less well and for a shorter time than potatoes.
Like potatoes, raw sweet potatoes do not freeze well. It is best to freeze leftovers once they are cooked.
Cooking suggestions
In savoury dishes, sweet potatoes can replace potatoes, carrots and squash.
They can be baked in their skins and served with mayonnaise, salted butter or olive oil.
They are incredibly versatile and can be eaten in salads, can be mashed, pan-fried, steamed and stewed, served as crisps or chips and be included in pancakes, soups, soufflés, croquettes etc.
They can also be incorporated into biscuits, pies and cakes!
Chef's tip
Another significant benefit of sweet potatoes is that kids love them! The ideal recipe? Sweet potato chips as a change to potatoes.
Nutrition
Sweet potatoes are high in pro-vitamin A and are a source of manganese, potassium, vitamin B6 and vitamin C. A true concentrate of vitamins!
| | |
| --- | --- |
| Energy (kj/kcal) | 265/63 |
| Fat (g) | 0.15 |
| of which saturated fat (g) | 0.042 |
| Carbohydrate (g) | 12.2 |
| of which sugar (g) | 6.11 |
| Dietary fibre (g) | 2.9 |
| Protein (g) | 1.69 |
| Salt (g) | 0.079 |
| Manganese (mg) | 0.38 |
| Potassium (mg) | 353 |
| Pro-vitamine A (µg) | 1750 |
| Vitamin B6 (mg) | 0.23 |
| Vitamin C (mg) | 16.2 |