1 kg = 400-450 g of beans
Weight
No soaking needed
before cooking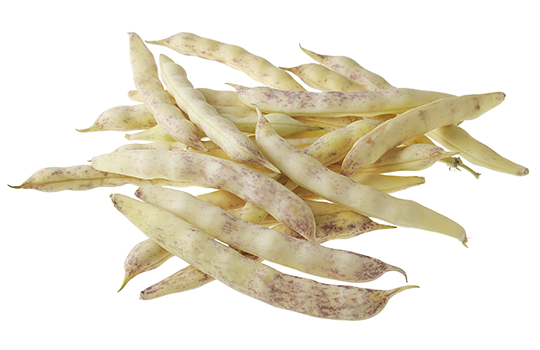 Did you know?
Coco de Paimpol are part of the legume family. These white beans have been cultivated in Brittany since 1928, when a sailor brought seeds back from Latin America. They are now cultivated in the north-west district of Côtes-d´Armor. In France, Coco de Paimpol was the first fresh vegetable to obtain a designation of origin when, at the national level, it was awarded an AOC (Appellation d'Origine Contrôlée) in 1998, followed in 1999 with the award of a PDO (Protected Designation of Origin) at the European level.
Coco de Paimpol PDO are harvested entirely by hand and sold fresh in their pods. More recently, trays of ready-to-use or frozen beans have been offered.
Our 200 producers have widely recognised expertise and follow rigorous specifications from sowing in mid-March, to sales from mid-July to October (with a peak in production between late August and early October). The harvesting of Coco de Paimpol PDO perfectly illustrates the unique and demanding character of this vegetable. Every year, starting in August, thousands of pickers are keen to maintain the tradition of harvesting Coco de Paimpol using the so-called 'plumage' technique. This refers to the gestures used for plucking poultry placed on the knees, replaced here by armfuls of foliage from which it is necessary to manually separate the pods which are firmly attached to the stems.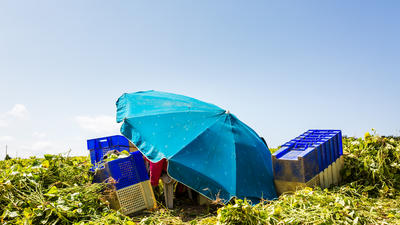 Cooking tips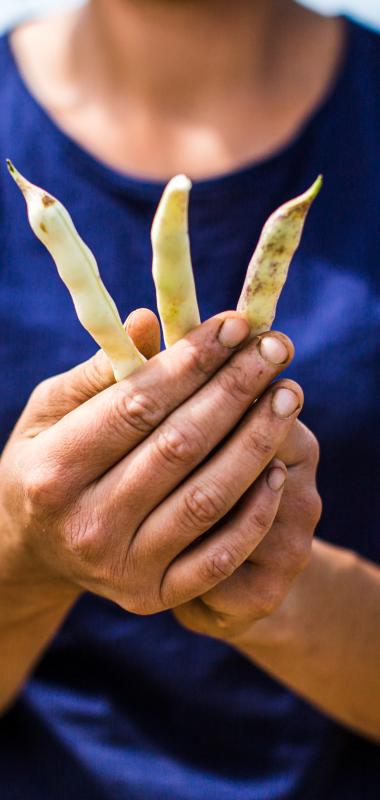 HOW TO CHOOSE COCO DE PAIMPOL
Pods should be straw yellow in colour with small purple marbling, while the beans should be white and oval, almost round, in shape.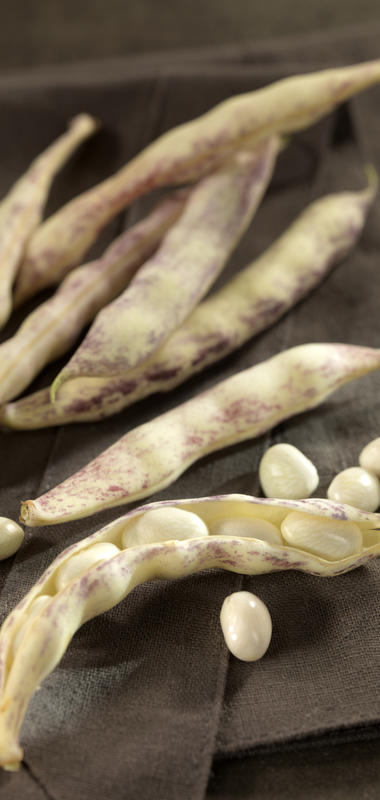 HOW TO PREPARE COCO DE PAIMPOL
If you have not bought a tray of ready-to-use Coco beans, remove the beans from the pods. The beans do not need any soaking before cooking, you can however rinse them before cooking.
1kg of Coco de Paimpol pods provides approximately 400/450g of beans, which is an ideal portion for 3 or 4 people.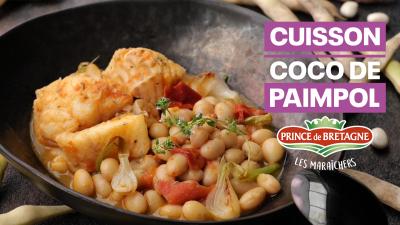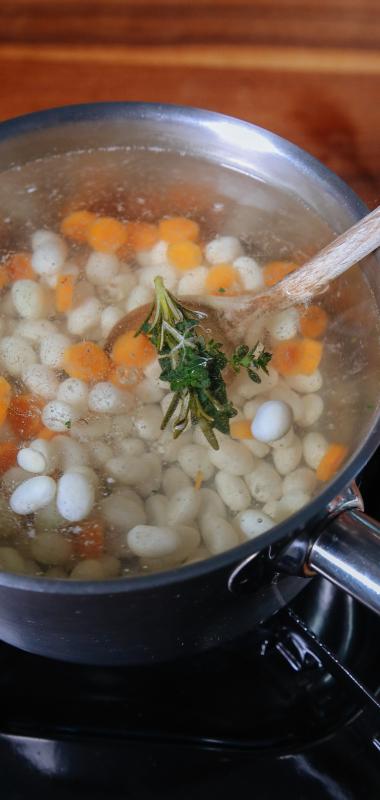 HOW TO COOK COCO DE PAIMPOL
To cook Coco de Paimpol, allow approximately:
35 to 40 mins
In boiling water
25 to 30 mins
Steam cooking (pressure cooker)
If you want to make a cream, a mash or a gratin, extend the cooking time.
Tip: add salt 10 minutes before the end of the cooking time. If you add salt at the start of cooking, the beans may burst.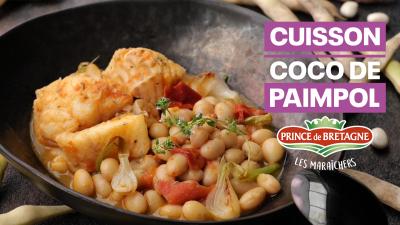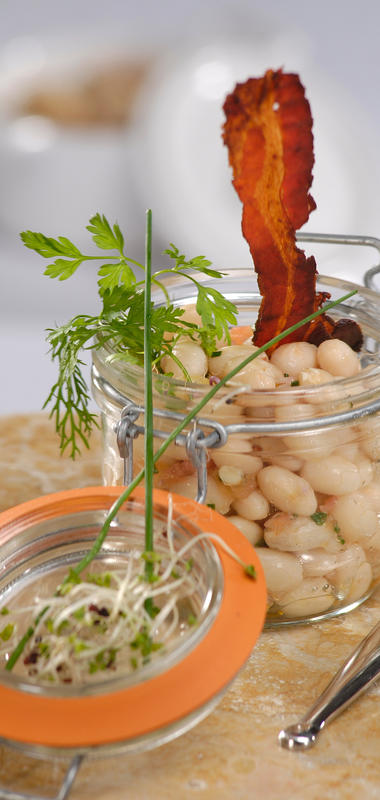 HOW TO STORE COCO DE PAIMPOL
Fresh Coco de Paimpol in their pods should be podded and cooked quickly after purchase. If you can't pod them the day you buy them, put the pods in a cool, dry place, or even in the fridge. Once podded, Coco de Paimpol should be cooked or frozen the same day.
Think about freezing: Coco de Paimpol beans freeze really easily without losing any of their qualities. They can then be cooked like fresh beans and enjoyed all year round.
Cooking suggestions
Be daring with the pairing! Hot or cold, Coco de Paimpol go really well with:
Shellfish (mussels, cockles and scallops)
Fish
Tomatoes
Peppers
Spicy charcuterie (andouille, chorizo etc.)
Sausages as in the famous cassoulet stew!
Cooking tip
Vary the pleasures!
Coco de Paimpol can be enjoyed both cold (in salads, houmous etc.) and hot (as a side dish, mash, soup etc.).
They are a legume which is perfect for vegetarians!
Innovation
Trays of Coco de Paimpol
End the chore of podding beans! Coco de Paimpol are now available as ready-to-cook fresh or frozen beans. Fresh, they are available in 220g and 400g trays with a shelf life of 8 days. 1kg bags of frozen beans will allow you to enjoy Coco de Paimpol all year round.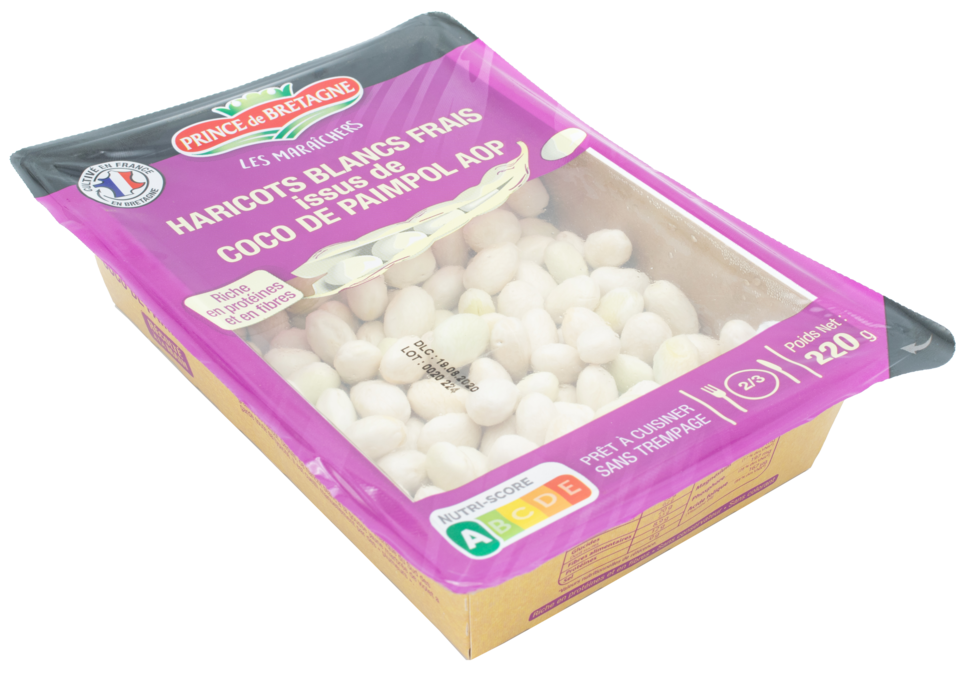 Nutrition
The health benefits of Coco de Paimpol are numerous; They are high in fibre, protein and folic acid. They are also a source of iron, magnesium and phosphorus.
| | |
| --- | --- |
| Energy (kj/kcal) | 652/155 |
| Fat (g) | 1 |
| of which saturated fat (g) | 0.2 |
| Carbohydrate (g) | 20 |
| of which sugar (g) | 2.5 |
| Dietary fibre (g) | 8.9 |
| Protein (g) | 12 |
| Salt (g) | 0.01 |
| Iron (mg) | 3.2 |
| Magnesium (mg) | 64.5 |
| Phosphorus (mg) | 196 |
| Folic acid (B9 in µg) | 167 |